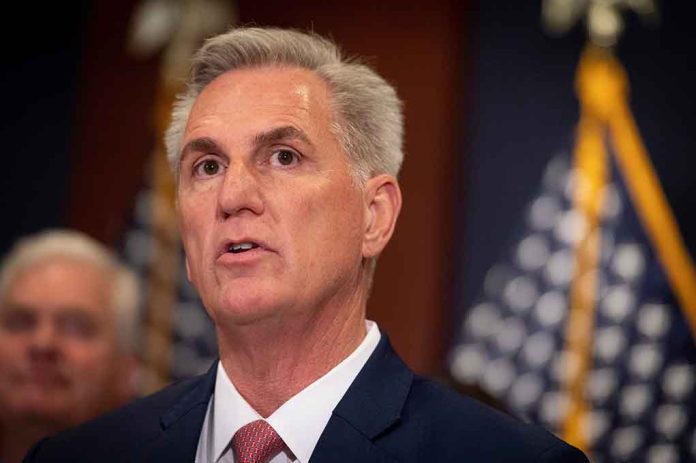 (USNewsBreak.com) – The debt ceiling is the total sum of money the US government can borrow to meet its obligations. The last time it was raised — to the current benchmark of $31.4 trillion — was in 2021. Now, the government needs more money to pay its expenses, and to do that, Congress must raise the debt ceiling yet again, but it's not going to be an easy road if recent reports are anything to go by.
House Speaker Kevin McCarthy (R-CA) unveiled a proposal on Wednesday, April 19. It outlines several conditions that Republicans want to meet before agreeing to any kind of increase.
The 330-page House bill, titled: Limit, Save, Grow Act, would reduce federal spending by a whopping $130 billion, including doing away with some of the green initiatives, increasing work requirements for those who receive federal aid, and pulling back money allocated, but not used, for the 2020 crisis. The legislation, which McCarthy plans to bring to the floor for a vote as early as next week, would also reset the federal spending limit to what it was in 2022 and save the federal government an estimated $4.5 trillion over the next 10 years. To that end, it proposes raising the debt ceiling by $1.5 trillion.
To pass the House, the bill needs 218 votes. Republicans have 222, which means he can only afford to lose 4. McCarthy insists he has the votes, but some lawmakers still question the plan and think it's not quite ready.
Republican lawmakers have questions for House Speaker Kevin McCarthy about his plan but are optimistic. They hope to pressure the White House and Senate into negotiating. https://t.co/d874S1zyTm

— CBS News (@CBSNews) April 18, 2023
For instance, Rep. Dan Bishop (R-NC) believes there should be more spending cuts. Rep. Tim Burchett (R-TN) said as the bill stands, he won't vote for it. He does support many of the bill's proposals, like the work requirement.
Currently, there's little chance the bill will pass the Senate. What it will do, however, is establish a pathway for negotiations. Time, however, is not on their side. The US already reached its debt limit two months ago. To avoid defaulting, Treasury Secretary Janet Yellen took "extraordinary measures" to cover obligations, according to CBS News. This will buy the country just a few more short months.
Copyright 2023, USNewsBreak.com