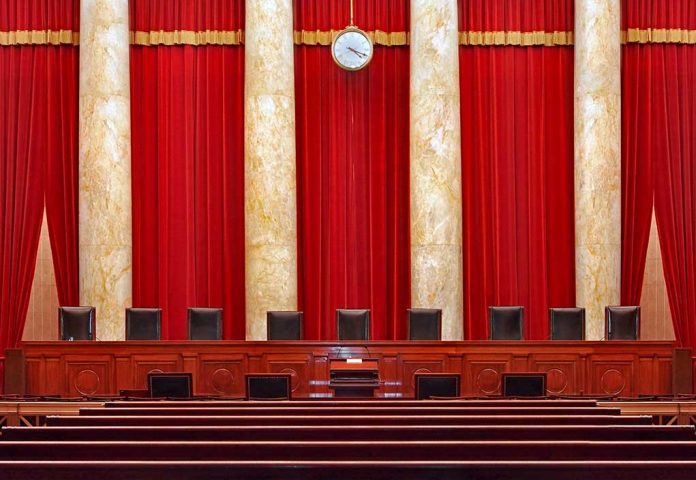 (USNewsBreak.com) – Recently, two Supreme Court Justices have come under fire over allegations regarding gifts or business transactions, which sources allege the barristers either didn't disclose or withheld key details. Concerned by the High Court's falling approval numbers, Senate lawmakers have introduced a new, bipartisan ethics code bill for the Supreme Court of the United States (SCOTUS).
Angus King (I-ME) and Lisa Murkowski (R-AK) introduced The Supreme Court Code of Conduct Act, requiring the High Court to develop and implement a code of conduct within one year of the bill's enactment. King told ABC affiliate WMTW Channel 8, "We're trying to essentially save the Supreme Court from themselves." Judges in lower federal courts adhere to the binding "Code of Conduct for United States Judges," but SCOTUS Justices are essentially exempt.
Senators Pushing New SCOTUS 'Code of Conduct' Bill https://t.co/5vEspQjY5s #BreakingNews #Breaking #Newsmax

— Brett Murphy (@bmurphypointman) April 26, 2023
Dick Durbin (D-IL), the Senate Judiciary Committee chairman, invited Chief Justice John Roberts to testify at a May 2 hearing on the bill. Roberts declined in a letter signed by all nine Justices, citing the importance of maintaining judicial independence. He appended a Statement on Ethics Principles and Practices and mentioned the US Judicial Conference's Code of Conduct as one of the guidelines by which the Justices conduct themselves. Still, it's not the only standard, and Roberts described situations unique to SCOTUS judges requiring discretion and flexibility in some cases.
Two ProPublica articles about Justice Clarence Thomas, one on April 7 describing undisclosed luxury trips donated by Republican mega-donor and Dallas billionaire Harlan Crow and another on April 13 detailing an unreported property sale that Thomas made to Crow, prompted King and Murkowski to draft their bill. An April 25 POLITICO article also described how Justice Neil Gorsuch withheld the buyer's name — Brian Duffy, the CEO of Greenberg Traurig, a huge law firm that has routinely brought cases before the SCOTUS — while disclosing his 20% interest in an almost $2 million Colorado mountain home sale.
King emphasized that under the bipartisan legislation, the High Court, not Congress, would set its own code of conduct to maintain the separation of powers. He also pointed out the bill doesn't include any penalties for code violations. The Maine senator said, "[I]t's not an attack on any Justice." Instead, he sees the move as an effort to salvage the SCOTUS's waning credibility in the public's mind.
Copyright 2023, USNewsBreak.com