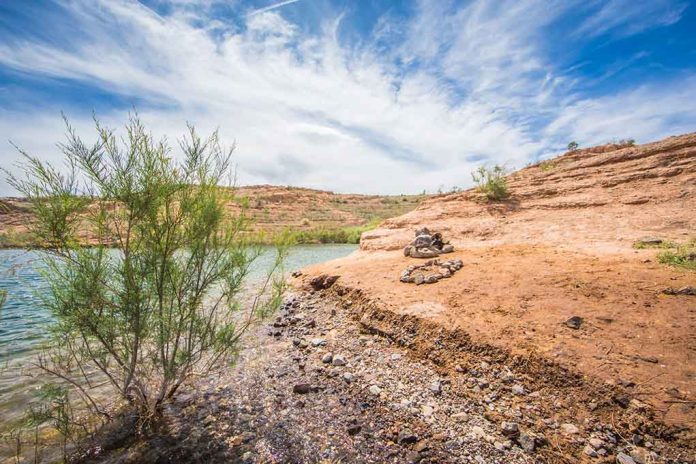 Body IDENTIFIED – After All These Years!
(USNewsBreak.com) – Lake Mead holds 9.3 trillion gallons of water, but it hasn't been at that capacity since 1999. Persistent drought has taken the water level to historic lows, and as the problem worsens, the bodies keep surfacing. Most of the remains haven't been named, but one family finally has closure after authorities identified a victim as a man who drowned in the lake in 2002.
REVEALED: Body found in Lake Mead three months ago is identified as 42-year-old Las Vegas man who drowned 20 years ago https://t.co/tk2OfZf01X

— Daily Mail US (@DailyMail) August 26, 2022
On May 7, near Callville Bay in Nevada, two sisters found skeletal remains on a sandbar while paddleboarding. They identified a jawbone with teeth as human and contacted authorities, leading to an investigation by the Clark County coroner. Information about the suspected identity and DNA evidence led to the identification of Thomas Erndt as the victim.
The 42-year-old Erndt had been a Las Vegas resident and father of two children. A local outlet said the man, who had never resurfaced after jumping from a boat on August 2, 2002, was a suspected drowning victim. His son, Tom Erndt, who was a child at the time of the drowning, later spoke to KRON4 about the night of his father's death, saying he and the rest of the people on the boat tried to help Thomas. However, by the time they managed to call 911, he was already gone, and authorities never found him until May.
This incident isn't the only one. Reports from visitors to the area have helped to recover the partial remains of three additional people as well as a gunshot victim who appeared to have been disposed of in a barrel. Investigations continue into all four unsolved cases.
Copyright 2022, USNewsBreak.com