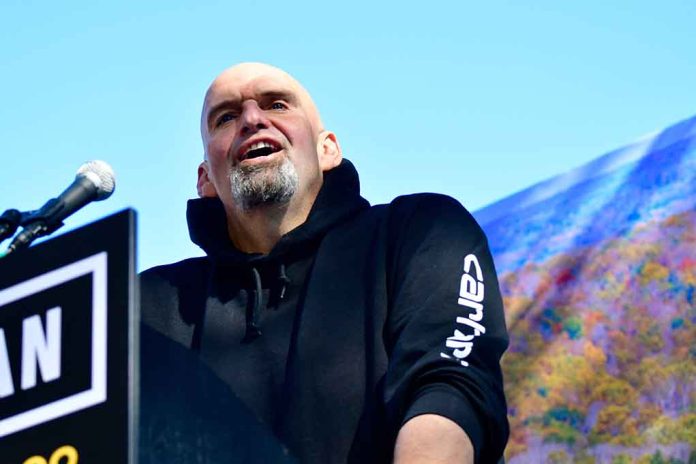 (USNewsBreak.com) – Last May, John Fetterman suffered a stroke that left him with some health issues, namely speaking and processing speech. Despite his medical condition, he refused to withdraw from his campaign for a Senate seat in Pennsylvania. In the end, he won the election in November, besting Republican challenger Dr. Mehmet Oz. Just a few short weeks into his term, Fetterman checked into Walter Reed National Military Medical Center in Washington, DC, to receive treatment for depression. Now, reports say he's back home.
Fetterman entered the hospital on February 15, citing depression, a condition he's battled much of his life. A source close to the senator revealed to ABC News that Fetterman wasn't acting like himself in the weeks leading up to his admission. He was still working but not eating much and "just seem[ed] off."
On Friday, March 31, reports revealed that Fetterman had been released from the hospital after his five-week stay. In a statement following his release, he said he was "so happy" to be back home and that he was looking forward to getting back to work and being a father.
For a while, it was unclear when he would return to the job. However, on Thursday, March 30, the New York Post reported someone close to Fetterman said the senator could be back in office as soon as the week of April 17.
Pennsylvania Sen. John Fetterman expected back to work in mid-April https://t.co/4RiIzN0cZu pic.twitter.com/ayKOQ8e7Qv

— New York Post (@nypost) March 30, 2023
Fetterman wasn't the only lawmaker sidelined. Sen. Dianne Feinstein (D-CA) is recovering from shingles, and Sen. Mitch McConnell (R-KY) is recuperating from a severe fall. Still, Fetterman hasn't neglected his workload despite his absence from Capitol Hill. While prioritizing his mental health, the senator has also taken daily meetings with staff.
In fact, Fetterman and Senators Sherrod Brown (D-OH) and Bob Casey (D-PA) recently introduced their first piece of legislation. They based the Railway Accountability Act on the February 3 derailment of a Norfolk Southern train in East Palestine, Ohio. In a statement, Fetterman said it's aimed at "common sense safety reforms, hold[ing] the big railway companies accountable, protect[ing] the workers who make these trains run, and help[ing] prevent future catastrophes" that negatively impact communities.
Copyright 2023, USNewsBreak.com