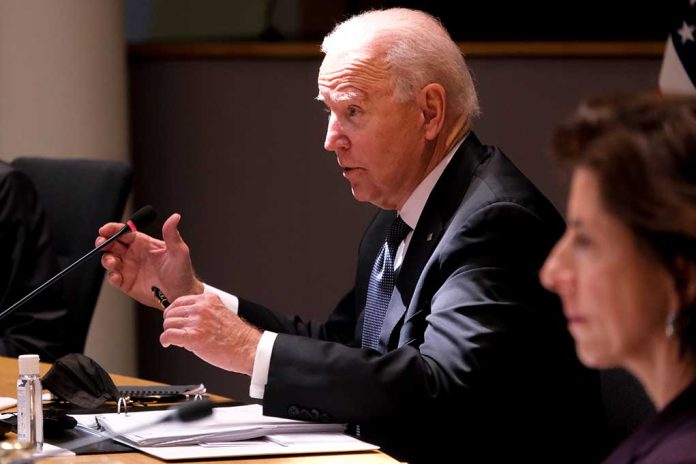 (USNewsBreak.com) – President Joe Biden is known for his gaffes; he's made a number of them over his past two-years-plus in office. He recently made a comment that angered some people in the United Kingdom, leading to concern about its effects on the relationship between the two nations.
On Thursday, May 10, Biden attended a Democratic National Committee Reception at a private residence in New York as part of his campaign. He spoke about numerous issues the US is facing and the legislation Democrats have passed during his time in office so far. At the beginning of his lengthy statement, he talked about his recent trip to Northern Ireland, which the president made in honor of the 25th anniversary of the Good Friday Agreement. In discussing the event, Biden said he visited the nation "to make sure … the Brits didn't screw around."
Joe Biden sparks row by saying he flew to Ireland to ensure 'Brits didn't screw around' https://t.co/wC3AlKllax

— Sharon Anne Jones Simcic (@SharonSimcic) May 11, 2023
His comment sparked some immediate backlash, particularly because he didn't spend much time in Northern Ireland and seemingly failed to honor its political standing. The country has lacked a fully functioning government since the Democratic Unionist Party left in a post-Brexit standoff. It has yet to return to Stormont, Northern Ireland's Parliament buildings.
Laurence Robertson, a parliament member, made clear that Biden needs to watch his phrasing and "show respect to [the] countries" he speaks about, per the Evening Standard. Shailesh Vara, former secretary for Northern Ireland, echoed the same sentiments, saying it was "deeply regrettable that President Biden [had] to use such language," suggesting it was a re-election ploy.
Some people have dubbed Biden "anti-British," a label US officials and Irish premier Leo Varadkar were quick to refute. His comments about Northern Ireland ignoring its commitments also seemed to hit a sore spot. Prime Minister Rishi Sunak's spokesman said that it was able to work out the Windsor Framework, an agreement between the EU and the UK without US involvement.
Copyright 2023, USNewsBreak.com