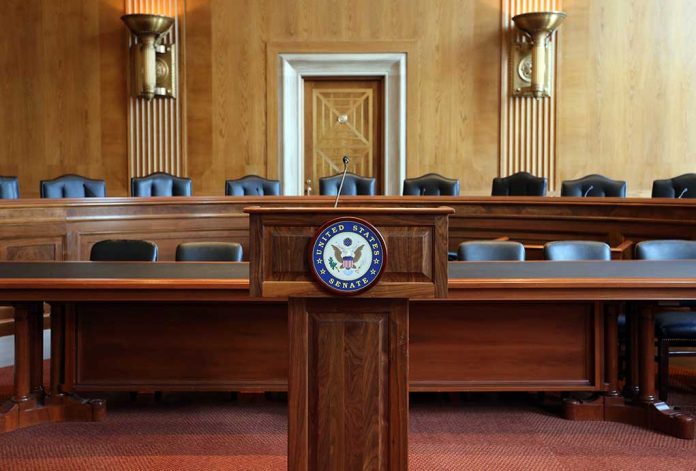 (USNewsBreak.com) – Congressman Jim Banks (R-IN) serves Indiana's third district as a House Representative. He's held the elected position since 2017, but now the legislator appears to have greater aspirations. When Senator Mike Braun (R-IN) made his announcement that he was running for state governor in December, the news left people wondering who would fill his shoes. Banks is apparently ready to take on that challenge.
On Wednesday, January 17, Rep. Banks posted a two-minute video on Twitter announcing his run for Braun's position. He's an opponent of President Joe Biden's agenda, which he plans to take on if elected.
We NEED conservatives in Washington who aren't afraid to fight Biden's radical agenda.

That's why I am running to represent our great state of Indiana in the United States Senate. Join my team: https://t.co/R8ntxo5pQt pic.twitter.com/4BPPQC7OxY

— Jim Banks (@Jim_Banks) January 17, 2023
The House representative highlights himself in his bid announcement, saying, "Indiana deserves a conservative fighter in the United States Senate." He has six years of experience working in the Lower Chamber, and he also spent the six years prior to that in the state senate. His biography states that during his time as a senator, he chaired the Military Committee and Senate Veteran Affairs, pushing for changes for veterans.
Banks is also a veteran himself. He served in the Navy Reserves and deployed to Afghanistan in 2014 and 2015. During this time, his wife was elected state senator in his place. He's an advocate for Second Amendment rights and has voted consistently in favor of pro-life and pro-family measures.
When the Lower Chamber formed the January 6 committee, then-House Minority Leader Kevin McCarthy (R-CA) picked him to serve. However, then-House Speaker Nancy Pelosi (D-CA) rejected his selection along with that of Rep. Jim Jordan (R-OH). Banks had received backlash from Democrats for supporting former President Donald Trump's election claims and downplaying the January 6 Capitol riot.
Banks has stated he has more than $1 million in his election coffers. Speaking to IndyStar, Banks said the state needs "new young conservative leaders to run for the Senate … and shake it up."
What are your thoughts on Banks? Let us know in an email!
Copyright 2023, USNewsBreak.com