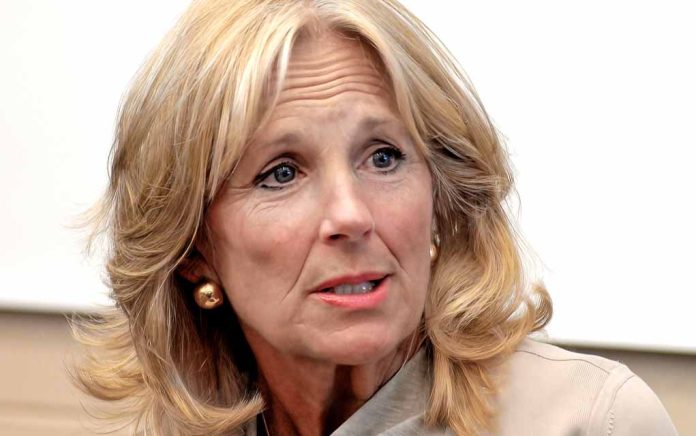 (USNewsBreak.com) – Various cancer screenings become increasingly important as you age, but early detection improve the odds of beating the disease. Recently, First Lady Jill Biden underwent screening, and doctors found some concerning lesions. She underwent surgery to have them removed.
On Wednesday, January 11, Mrs. Biden went to Walter Reed National Medical Center to have cancerous tissue removed. One of the lesions was above her right eye, and the second was on her chest. During the procedure, the doctor noticed another concerning spot on her left eyelid and removed that as well. That one has been sent to a lab for further examination, per Dr. Kevin O'Connor, the president's physician.
Update from Dr. Kevin O'Connor, Physician to the President, following the First Lady's Mohs surgery today: pic.twitter.com/2dxyDCCeeQ

— Vanessa Valdivia (@vvaldivia46) January 11, 2023
The two cancerous lesions were determined to be basal cell carcinoma. This is a slow-growing type of cancer, but it's also one of the most common types found on the skin. This form is not metastatic like many others can be, which gives the patient a high success rate if lesions are removed in a timely manner.
The surgeon used Mohs surgery, a thorough procedure that medical professionals tout as the most effective to use for skin cancer. It's carried out in multiple stages, removing layer by layer of tissue until lab work shows one clear of cancerous cells. This helps patients avoid large scars and preserves healthy tissue. Best of all, it's performed in an outpatient procedure.
After the procedure, Dr. O'Connor said the First Lady was feeling well, and he would keep the staff updated on her condition. She experienced swelling and bruising common with the technique but was cleared to return to the White House the same day.
President Joe Biden accompanied his wife to the medical center for the surgery. He underwent similar procedures before he took office, using the same doctor, according to a health summary issued on November 19, 2021.
Copyright 2023, USNewsBreak.com