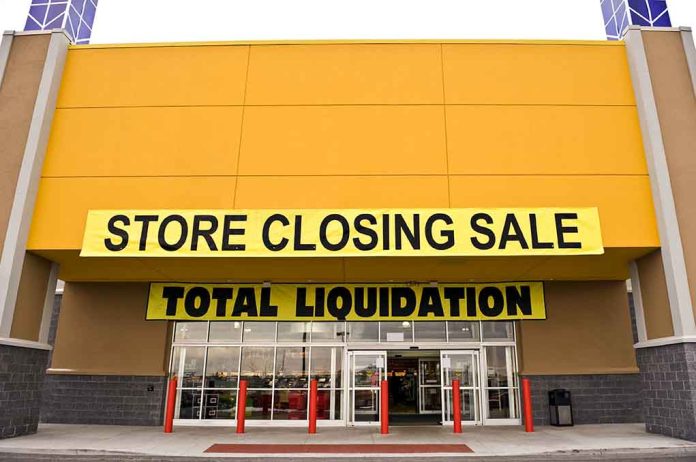 (USNewsBreak.com) – The last few years have been rough for retail stores. Many have experienced rising crime, particularly theft, and other challenges that have forced them to reconsider staying open. This year, more than 800 retail locations, mostly big box stores, will be closing their doors for good.
More than 800 stores are closing across the US in 2023. Here's the full list. https://t.co/t7kU5kWaTg

— Insider Retail (@insiderretail) February 20, 2023
According to a Business Insider article published on February 20, there's apparently a bit of a retail apocalypse going on. The list of doomed stores includes some of the top chains in the United States, including Bed, Bath & Beyond, slated to close a stunning 416 locations. The loss will leave the company, which has been struggling financially for years, with just 360 of its flagship stores left.
Tuesday Morning is next on the list, with 263 stores closing. On February 14, the company announced in a press release that it was filing for Chapter 11 bankruptcy due to "exceedingly burdensome debt." The retailer posted a list on its website of the locations that are planned to shutter.
Multiple other companies have plans to shut down locations as well. Gap and Banana Republic are shutting down a possible 74 stores. The decision would bring the total to approximately 350 locations since 2020, according to a list on the company's website.
Party City is also struggling financially and will see 22 of its locations close. Like Bed, Bath & Beyond and Tuesday Morning, this party supply store is also going through bankruptcy proceedings.
Walmart will continue the trend of closing several stores a year, but it's doing so due to poor performance, according to Business Insider. Amazon is also re-evaluating its strategy to bring products to physical storefronts, including at its grocery and convenience stores, in the wake of unsatisfactory performance.
Macy's, JCPenney, Big Lots, and several other brands will also close down a few stores across the country in an effort to save money and focus on thriving locations.
Copyright 2023, USNewsBreak.com