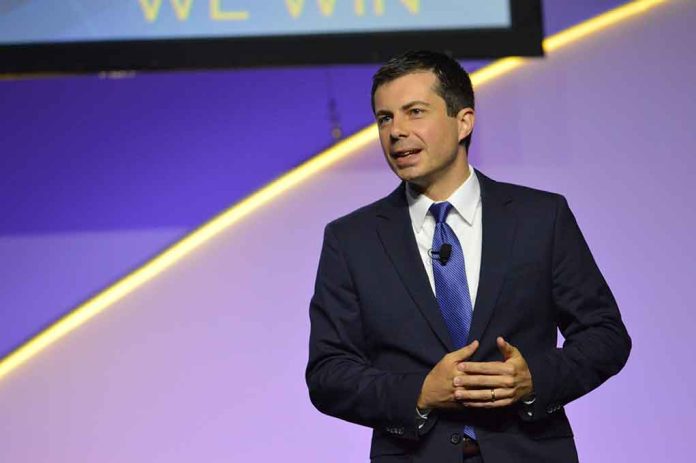 (USNewsBreak.com) – Transportation Secretary Pete Buttigieg has come under some serious fire this year. Republicans attacked him for his response to the Palestine, Ohio, train derailment accident and have accused him of pandering to the cameras and faking bike rides to appear more climate-conscious. Now, the House GOP is trying to slash his pay — all the way down to $1.
On Tuesday, November 7, the House moved to push an amendment to the Transportation, Housing and Urban Development, and Related Agencies Appropriations Act. It would reduce Buttigieg's cabinet salary to $1 annually if passed. The measure, known as the Holman Rule, allows Congress to reduce certain federal employee salaries in a spending bill. Rep. Marjorie Taylor Greene (R-GA) suggested the measure in this case.
Greene has regularly called out the Transportation secretary for using taxpayer dollars to fund "private planes" and extravagant "trips or salary." She believes that even paying Buttigieg $1 is too much.
In a November 7 post on X, formerly Twitter, she said Americans are on the hook for his expenses while he flies to "receive awards for the way certain people have sex." She mentioned firing him in her speech, but it's a salary reduction she's seeking.
The move is largely symbolic. While it could possibly pass in the House, it would likely never make it through the Democratic-controlled Senate. Additionally, President Joe Biden would either need to sign the measure, or Congress would need enough votes to overcome a veto. With such close margins in both chambers, that's very unlikely.
An audit reported on by Reuters in February revealed that Buttigieg used government jets 18 times. A Department of Transportation spokesperson defended the trips, saying they cost less than flying commercial, and it would cooperate with the department's Office of Inspector General on the probe.
It's unclear when the amendment might make its way to the House floor for a full vote.
Copyright 2023, USNewsBreak.com