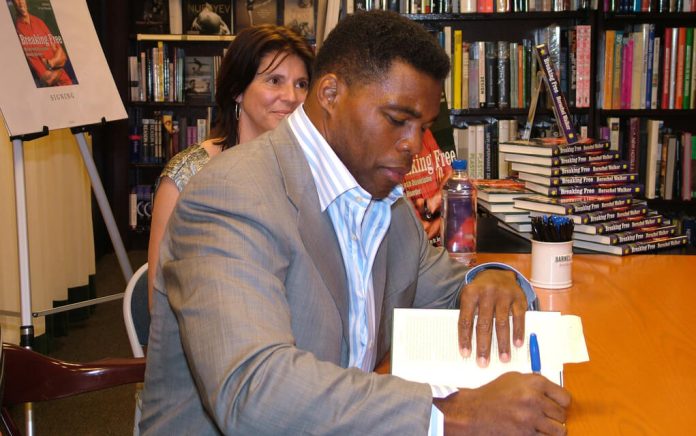 Herschel Walker Admits He Knows Woman Who Made Abortion Claims, Says She's Lying
(USNewsBreak.com) – The Daily Beast published a story on October 4, with an anonymous source accusing Georgia Senate candidate Herschel Walker (R) of paying for an abortion for a former girlfriend. He has vehemently denied the act. He even initially proclaimed he didn't even know the woman, who later revealed she was the mother of one of his children. In an interview with Linsey Davis of ABC News on October 11, the Republican clarified the situation.
Herschel Walker claims ex-girlfriend, whose identity he says he knows, is lying about abortion – more of @LinseyDavis interview tonight on @ABCWorldNews & @ABCNewsLive https://t.co/I9xiybDXZ0

— John Santucci (@Santucci) October 11, 2022
Walker explained when the story broke, he had no idea who was making the allegations. The Daily Beast did not release the woman's name or identifying details beyond when she supposedly had the procedure. The Republican indicated his remarks on not knowing his accuser were because her identity was unclear. Now that he knows her identity, he's admitted that he knows her. However, he's maintained he never paid for an abortion.
The exposé came at an inconvenient time for Walker's campaign because he has expressed that he is staunchly pro-life. The idea he paid for someone to get the procedure was against the image he's trying to portray as he runs for the critical Senate seat. He had expressed he doesn't support abortion in any situation but has recently revised that stance, stating that some exceptions are acceptable.
Walker continues to insist the woman's story is a complete fabrication and refuses to allow the scandal to derail his campaign. He said the race is "too important" for him to give up now, according to ABC News.
Copyright 2022, USNewsBreak.com