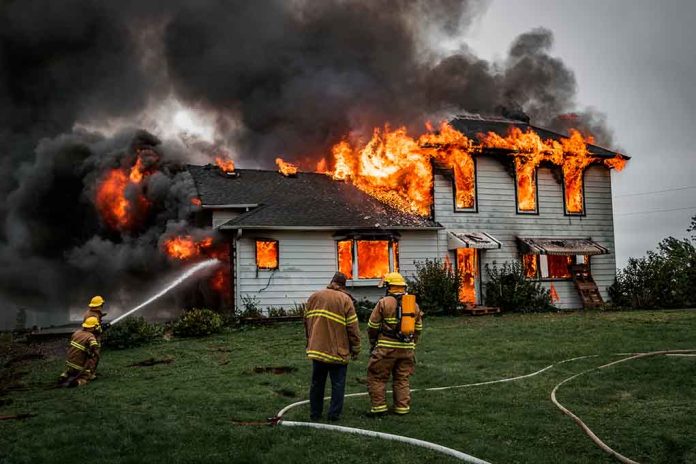 Children In BURNING HOME Saved By An Unexpected Hero
(USNewsBreak.com) – Few people would run into a burning building, which is why that job falls on trained firefighters. But in Indiana, one good Samaritan decided he couldn't wait for the professionals. Nick Bostic was driving on Union Street in Lafayette when he saw a home in flames. The 25-year-old sprang into action, pulling five people out of the fire, including a 6-year-old, who was upstairs. The heroic stranger and the little girl became trapped and had to jump from a second-floor window.
Indiana passerby rescues five children from burning home, including baby https://t.co/PZ3Y4IrUY3 pic.twitter.com/GU9ANRdOvS

— New York Post (@nypost) July 20, 2022
The incident happened around 12:30 a.m. on July 11. Officials believe the blaze started on the front porch due to improper disposal of hot ashes. According to reports, Bostic first went into the house and helped four individuals escape, including a baby, two 13-year-olds, and an 18-year-old. After that, he headed back for the 6-year-old.
Video captured by police bodycams shows Bostic walking away from the inferno with the final child in his arms. Officials rushed to assist, providing medical care to the man, who had hurt his arm and was suffering from smoke inhalation. While he was struggling to breathe, all the hero cared about was whether the girl was okay. Luckily, the 6-year-old only suffered a minor foot injury. Bostic later received treatment at Eskenazi Hospital in Indianapolis.
The mayor of Lafayette, Tony Roswarski, in coordination with the fire and police departments, are planning to recognize Bostic for his actions during the Lafayette Aviators game in August. The local hero's brother set up a GoFundMe for him, and over 15,000 people have donated more than $518,000 as of July 21.
Copyright 2022, USNewsBreak.com