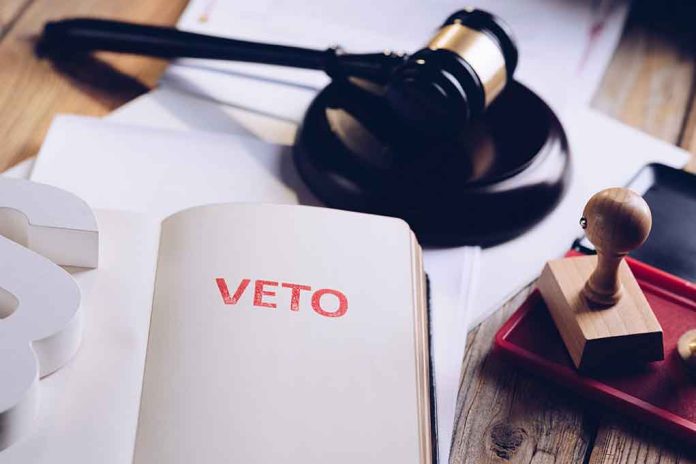 (USNewsBreak.com) – When the Supreme Court overturned Roe v. Wade through its decision in the Dobbs case, many states began working on their own abortion legislation. In North Carolina, lawmakers passed a bill banning the procedure after 12 weeks gestation in early May. When Senate Bill 20 made its way to Democratic Governor Roy Cooper's desk, he vetoed it, saying in a statement that it would "create dangerous interference with the doctor-patient relationship … with its medically unnecessary obstacles and restrictions."
On Tuesday, May 16, lawmakers held a vote to overturn Cooper's action — and they succeeded.
North Carolina lawmakers override governor's veto of 12-week abortion ban https://t.co/rNOJa7zZPr

— Just the News (@JustTheNews) May 17, 2023
North Carolina Republicans hold a supermajority in both chambers, which made it relatively easy for them to override the veto. Conservatives in the state Senate celebrated the move. Republican Senators Vickie Sawyer, Lisa Barnes, Amy Galey, and Joyce Krawiec issued a joint statement, calling the decision "a monumental moment for women, children, and families."
Prior to this new law taking effect, North Carolina's abortion ban sat at 20 weeks gestation. Even with the new 12-week restriction, it's still one of the more liberal policies in the Southern part of the US, according to Axios. Florida and Tennessee have the strictest, at 6 weeks gestation, when many women don't even know they're pregnant. South Carolina is looking to do the same, but lawmakers are facing legal challenges.
The North Carolina ban does have a few exceptions. In the case of rape or incest, the cutoff is extended to 20 weeks. If the fetus is found to have a life-limiting anomaly, the mother can have an abortion up to 24 weeks gestation. Then, in the case of an emergency where a doctor declares the mother's life is in danger, termination is legal.
Before termination, the physician must verify the fetus' gestational age, and it must be less than 10 weeks, which, according to Axios, Governor Cooper feels is an outright ban. Republicans, however, said that the law also increases access to contraception and improves upon paid leave and funding for foster and childcare.
Copyright 2023, USNewsBreak.com