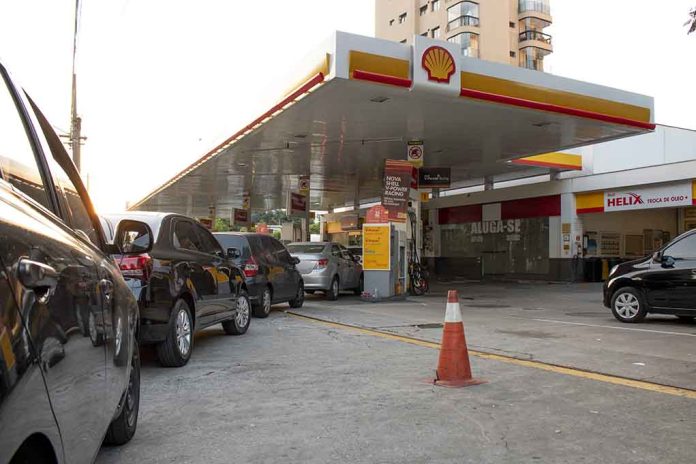 Epic Gas Station FAIL – Drivers Completely Shocked!
(USNewsBreak.com) – A Rancho Cordova gas station in California had gas prices that shocked customers. No, it wasn't the almost $7-per-gallon regular price. The gas station manager reportedly made a mistake that caused the pumps to let the liquid gold go for just $0.69 a gallon. That's the kind of outrageous gas price everyone wishes they could see these days, but the former manager, John Szczecina, says the error cost him his job.
The manager of a California gas station was fired after he accidentally set the gas price to 69 cents a gallon. https://t.co/fTUJN73M0h

— World News Tonight (@ABCWorldNews) June 15, 2022
Last week, people were lining up to grab some of the cheapest fuel in the nation at the Shell station located at White Rock Road and Sunrise Boulevard. Local Darryl Surita told CBS Sacramento he posted about the price on Instagram to get the word to family and friends in the area. He managed to fill up his empty tank for just $14.
Family member Eddie Surita said the station became a "circus within a matter of minutes." Darryl Sarita noted everyone was smiling but cautious and not making eye contact because the price was so unbelievable.
The gas should have sold for $6.99 a gallon, but Szczecina says he accidentally moved the decimal point to make it $0.69 a gallon. Management worked for three hours to fix the mistake, and CBS Sacramento reported on Monday that it cost the establishment about $16,000. Szczecina was promptly fired, and his family has set up a GoFundMe in an effort to pay back the money.
With gas prices soaring to all-time highs, and prices in California among the highest in the nation, this was a big surprise for drivers who stopped at the gas station that day.
Copyright 2022, USNewsBreak.com