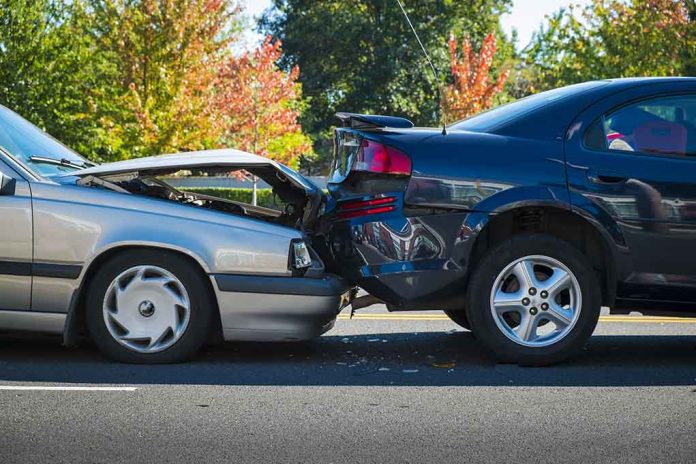 Former CNN Anchor ARRESTED – Look What She Did!
(USNewsBreak.com) – A former CNN anchor with a history of drunk driving allegedly left the scene of an accident in Palm Beach, Florida on July 28, landing her in county jail. Felicia Taylor, 57, a well-known socialite, supposedly slammed into a stopped vehicle, causing injuries to the driver. Local news journalists reported on the incident, and an article from Page Six offers more details about the odd tale the former anchor allegedly relayed to authorities.
Former CNN anchor Felicia Taylor was arrested after she was involved in an alleged hit-and-run car crash in Palm Beach, Florida. https://t.co/eqemoJ45gA

— Breitbart News (@BreitbartNews) August 7, 2022
Currently, Taylor is facing charges for leaving the scene after an accident and for driving recklessly. She managed to make bail, but there could still be trouble ahead for her. According to the report, the retired news personality first struck the rear bumper of a black Ford, causing multiple injuries to the younger driver. Taylor then supposedly sped off without providing any help. She reportedly drove by the scene twice before police pulled her over.
The defendant told the cops she knew she'd been in an accident, but that the driver was fine. She claimed to be staying at a local hotel and said she'd just come from a pair of restaurants in the area. The hotel was closed at the time, and staff at the restaurants have no recollection of Taylor being there.
The socialite reportedly has a record of drunk driving dating back to 2015. However, the report states that she wasn't under suspicion this time around.
Taylor is a retired member of the news industry who previously worked for CNN International's World Business Today. She also has a history with CNBC and WNBC-TV.
Copyright 2022, USNewsBreak.com