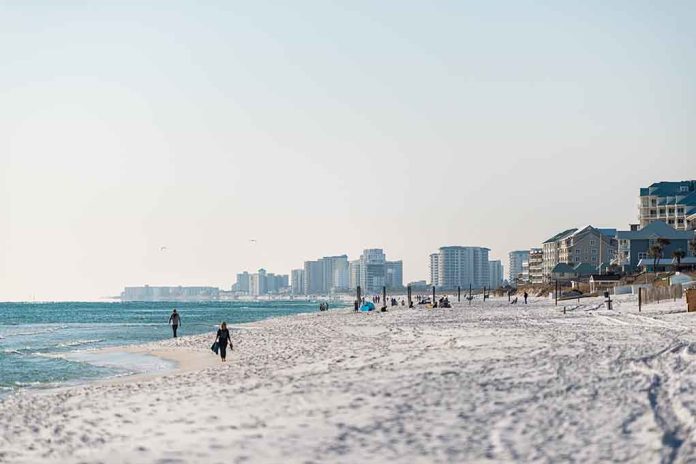 (USNewsBreak.com) – Drug traffickers often use the waterways to transport narcotics, but the travel can be perilous. Sometimes, the vessels carrying the cargo sink or get destroyed in treacherous waters. When that happens, the drugs tend to make their way to various shores. According to reports, some suspicious packages recently washed up on a gulf beach.
On Monday, April 3, law enforcement was called to Miramar Beach in Walton County, Florida, when a beachgoer found a strange-looking bag that seemed to be narcotics. Authorities sent the substance out for testing and confirmed it to be cocaine. That was the first of three calls that would come in over two days. Another call on Monday turned up more cocaine on Gulfview Heights Beach, and a third drew law enforcement to Grayton Beach State Park. All in all, the three packages had an estimated worth in excess of $100,000.
Three packages of cocaine have been discovered washed ashore on three different areas of beach in Walton County valued at more than $100K.

It's not uncommon for @WCSOFL to be called to the beach for suspicious items washed ashore from the Gulf whether it be ordnance, drugs, or… pic.twitter.com/V6V1kaciTU

— Walton Co. Sheriff (@WCSOFL) April 4, 2023
Authorities ask that people who find these packages do not touch or attempt to open them, but rather call law enforcement immediately.
This is hardly the first occurrence of drugs washing ashore. Back in October, a package wrapped in several layers of plastic turned up in Daytona Beach. It turned out to contain 11 pounds of cocaine that was worth more than $150,000. In that case, Border Patrol seized the drugs.
At the end of July 2022, the Border Patrol was called in to collect roughly 126 pounds of the illicit narcotic, which had washed up on beaches in the Florida Keys over the course of a single weekend. One was a large package that contained several smaller ones. All in all, the value of the narcotics seized in that single weekend amounted to close to $2 million in street value.
Over the weekend, Good Samaritans discovered 126 lbs. of cocaine washed-up along the coastline in the Florida Keys. #BorderPatrol agents with support from @mcsonews recovered the drugs. The cocaine has an estimated street value of nearly two million dollars.
 #breaking #Florida pic.twitter.com/Jal69W0frX

— Chief Patrol Agent Walter N. Slosar (@USBPChiefMIP) August 1, 2022
The Walton County VICE/Narcotics Unit and Coast Guard continue to investigate the most recent discoveries, which have all been submitted as evidence to be destroyed.
Copyright 2023, USNewsBreak.com