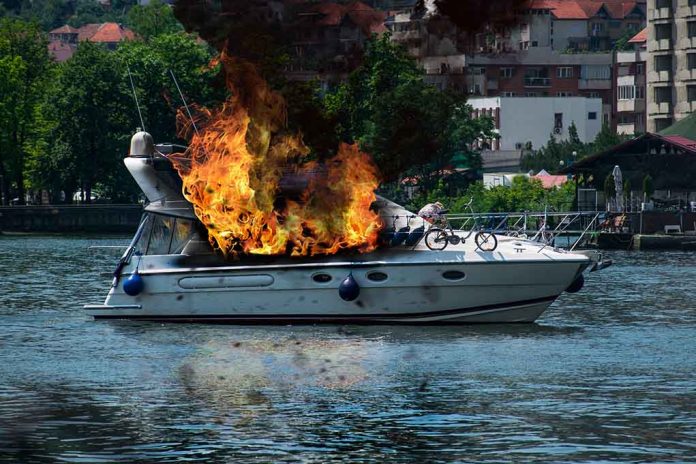 Boat CATCHES FIRE – Passengers Saved By An Unlikely Hero
(USNewsBreak.com) – A 70-foot yacht carrying three people and two dogs caught fire near New Castle, New Hampshire, on June 18. Luckily for the five souls on board, lobster fisherman Tom Hadley saw the boat in flames and rushed to the area to offer assistance. It's still unknown why the boat caught fire, and police say it may be impossible to find out.
A New Hampshire lobster fisherman saved three people and two dogs from a burning yacht near New Castle on Saturday. https://t.co/NjyF7XGJoZ

— ABC News (@ABC) June 21, 2022
Hadley explained he dumped his lobster traps to provide more room but still could only bring on two of the people and the dogs before he was out of space. A nearby fishing boat came to help the third victim. The rescuers took their new passengers to the Wentworth Marina dock, where they received transport to the Portsmouth Hospital.
The victims received treatment and quickly left the medical facility to get their dogs. The canines had no injuries from the event. Only one of the people involved suffered a minor injury.
New Hampshire State Police received a call about the incident around 4:00 p.m. and dispatched the Marine Patrol. The agency reported the boat, Elusive, was making its way to the marina when a fire began below deck. Multiple agencies tried to recover the boat, but the tide took it too far out, and it sank near Kittery, Maryland.
The victims, Jarrod Tubbs, the first mate, and husband and wife, Kitt and Diane Watson, lived on the yacht. They lost all their belongings in the fire. But Kitt Watson explained he was grateful for the help of the rescuers and the way they welcomed the victims with open arms in their time of need.
Copyright 2022, USNewsBreak.com