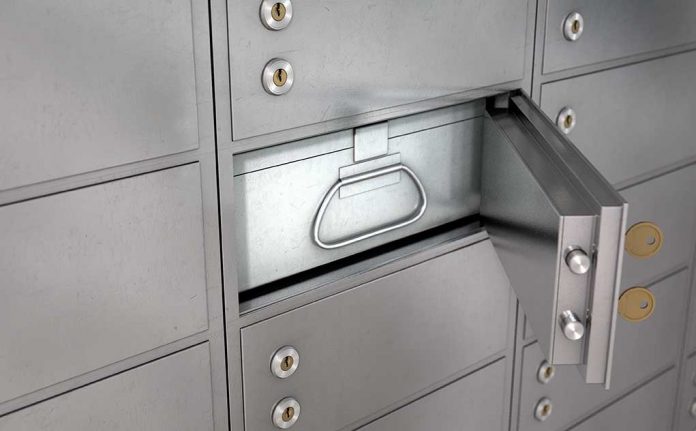 (USNewsBreak.com) – Most of us count on safe deposit boxes as places we can securely keep valuable or important items. Short of an act of God or war destroying the box, we generally have no reason to expect any harm will come to the items we store inside.
Unfortunately, that was not the story for the holders of nearly 800 safe deposit boxes in Los Angeles. The FBI raided their storage boxes, confiscating the contents as part of an ongoing investigation. Now, the storage provider and several box holders are trying to get back about $85 million worth of items they say the government took in violation of their Constitutional rights before the government claims those items under civil forfeiture proceedings.
Feds accused of seizing $85 million from safe deposit boxes without 'any legal basis' | Just The News https://t.co/PGFAEs1Jgj

— Just the News (@JustTheNews) June 19, 2021
In March 2021, officers from the FBI seized the contents of those safe deposit boxes in conjunction with the execution of a warrant against US Private Vaults (USPV), the storage provider. USPV was under investigation for its involvement in money laundering and drug crimes.
The owners of the boxes, who are not facing any criminal charges in the incident, filed a class-action lawsuit in May 2021, saying there is no legal basis for the federal government to take and hold their personal property. Represented by the Institute for Justice (IJ), the individuals claim a violation of due process.
The warrant shows officers should not have accessed box contents except as a way to identify owners and give back the property. Instead, video footage shows agents searching through boxes and opening envelopes and containers, and many stored items have gone missing. The IJ says law enforcement went far beyond the warrant's scope, violating box holders' rights, and the law firm filed a temporary restraining order on June 15, 2021, to stop civil forfeiture proceedings in the case.
This case is ongoing, and we'll bring you developments as they occur.
Copyright 2021, USNewsBreak.com