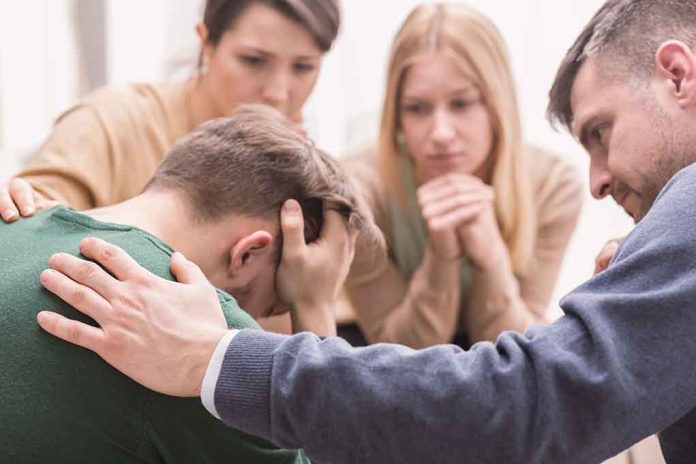 Drug CRISIS – Victims' Families Speak Out!
(USNewsBreak.com) – Jim Rauh, the founder of Families Against Fentanyl, appeared on "Fox & Friends First" on May 17 to speak out against the Biden administration's handling of the drug crisis. A mother who lost her son to a fentanyl overdose, Sandy Snodgrass, joined him in criticizing the White House for not reporting data properly. Rauh, who also lost a child to an overdose several years ago, noted that timely publishing of statistics is essential in this fast-moving situation.
📺 WATCH: @FafFentanyl founder James Rauh joins @FoxFriendsFirst to discuss our letter to @CDCDirector and @SecBecerra asking for data on fentanyl deaths to be treated in the same manner as COVID deaths. We need more timely information to save lives. https://t.co/h0dEKrR8Mg

— Families Against Fentanyl (@FafFentanyl) May 17, 2022
The activist explained that having access to recent information is the only way to respond appropriately. Families Against Fentanyl is pushing the Biden administration for a better system that reports similarly to COVID-19 infections and deaths. He noted that the growth of fentanyl in communities is "alarming" and compared it to a "weapon of mass destruction." Rauh says they can intervene more quickly and save lives with this type of real-time data.
Snodgrass also mentioned the importance of securing the border. She explained an open border lets more fentanyl into the country. Fox News adds that critics often pinpoint the border crisis as a primary way cartels bring drugs into the United States. Lenient policies by the Biden administration have contributed to this immensely, according to the report. The grieving mother stated fixing this situation must be a top priority.
Could better reporting and securing the border help save lives and halt this terrible wave of fentanyl overdoses in the US?
Copyright 2022, USNewsBreak.com