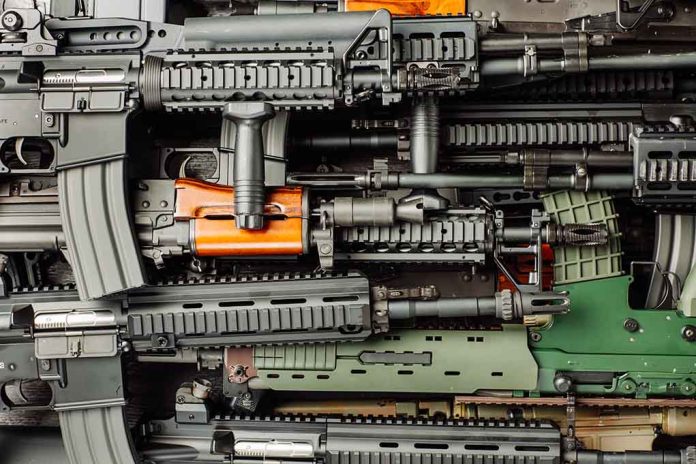 Former Marine Commits Ultimate Act Of BETRAYAL Against America
(USNewsBreak.com) – Marco Antonio Santillan pleaded guilty on May 31 for his alleged part in a massive gun smuggling ring. The Department of Justice (DOJ) indicted the 51-year-old former Marine on January 24 for being the alleged leader of an organization trafficking guns, parts, and ammunition to the Cártel Jalisco Nueva Generación (CJNG). He faced charges for smuggling weapons and money laundering.
'Semper Infidelis': Former Marine Pleads Guilty To Smuggling Weapons, Ammunition To Mexican Drug Cartel https://t.co/Q1PSdwJuFl pic.twitter.com/Brm8695xPC

— Daily Wire (@realDailyWire) June 1, 2022
The DOJ picked up Santillan and five others during Operation Semper Infidelis on January 19. The operation is part of the work of a Los Angeles Strike force investigation team looking into the domestic trafficking of guns and ammunition specifically to the CJNG, which is a well-known dangerous cartel from Mexico.
The 23-page indictment against the six men included details on how the organization operated its smuggling ring. Prosecutors said the organization bought the firearms with drug money and then sold them to the cartel in Mexico. Authorities confiscated over 250,000 rounds of ammunition, $300,000 in gun parts, six assault rifles, and gun-making kits. The seized items were on their way to the CJNG.
The DOJ also indicted Santillan's son, Marco Santillan Jr. The younger Santillan pleaded guilty to his federal charges a week prior to his father. He will go before the court for sentencing on August 1. The judge set sentencing for the elder Santillan on August 8.
Copyright 2022, USNewsBreak.com