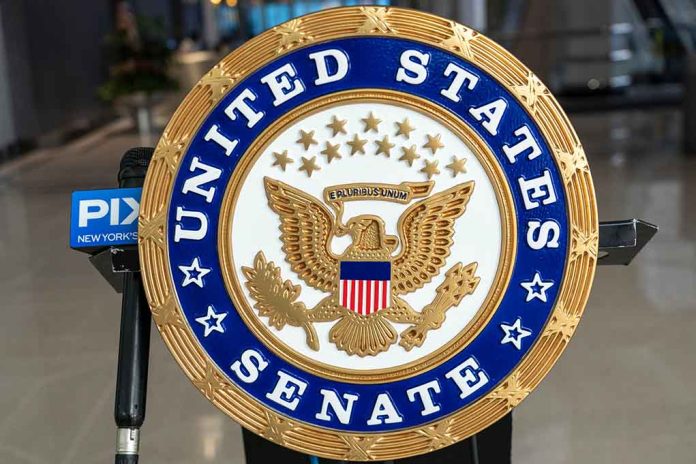 (USNewsBreak.com) – Back in February, Senator Dianne Feinstein (D-CA) was hospitalized with a case of shingles. In the weeks and months following her revelation, she remained out of work, which led to many calls for her resignation. She ignored these requests and finally returned to Washington on Wednesday, May 10. However, she appeared confused and needed a wheelchair to get around. A recent report indicated that the senator's illnesses were far more serious than anyone knew.
On May 18, The New York Times reported that the reason Feinstein appeared frail upon her return was that she was battling Ramsay Hunt Syndrome. It's a neurological condition caused by the same virus that causes chickenpox and, later in life, shingles. The disease affects a nerve located near the ear that results in weakness or paralysis of the facial muscles and hearing loss.
That's not all, though. Reportedly, Feinstein also suffered from encephalitis as a result of the shingles. This condition results in brain swelling that can affect speech and memory and cause a whole host of additional health issues.
NEW: Sen. Dianne Feinstein experienced more complications than were publicly disclosed from a recent case of shingles, a person familiar with her situation says. Feinstein had also suffered from Ramsay Hunt syndrome and a case of encephalitis. https://t.co/w8sbdeWF7S pic.twitter.com/tyjcIaq9O2

— MSNBC (@MSNBC) May 18, 2023
Feinstein hasn't addressed any of the details, but her office did confirm that she is still suffering from Ramsay Hunt Syndrome. The encephalitis, however, reportedly "resolved itself" in March. She reportedly turned away phone calls, visits, and communication in general from lawmakers who reached out to her. She even refused to speak directly with Governor Gavin Newsom (D-CA).
This report is just the latest in a long list of concerns lawmakers have about Feinstein's ability to continue serving in the Senate. Prior to her latest illnesses, her mental capacity was called into question as she seemed to struggle with memory loss.
While she announced that she doesn't plan to run again in 2024, her official term end date of January 2025 is still a year and a half away.
Copyright 2023, USNewsBreak.com