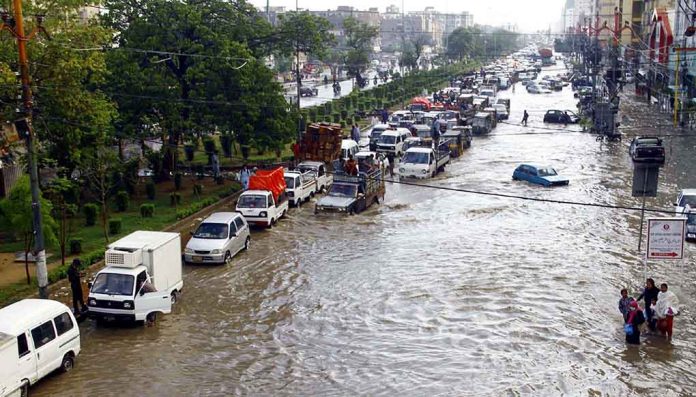 Devastating FLOODS Hit – So Many Deaths!
(USNewsBreak.com) – This year's rainy season in Pakistan began in June. One of the worst days of flooding occurred on July 24 in Karachi, when the downpour brought the city three times the volume of rainfall it usually sees in a month. Everyday life came to an abrupt halt that day, but it was just the beginning for a country that would see a devastating monsoon season like no other.
Pakistan scrambled to deliver aid to those most in need as the death toll rises from record-breaking floods.@munirahmedap https://t.co/Uvj6Dg6lDo

— Javeria Siddique (@javerias) September 13, 2022
The usual end to the season comes in mid-to-late-September, but so far, roughly one-third of Pakistan's land remains under water. Roads, bridges, and houses have washed away, leaving people stranded and homeless. Residents struggle to find the necessities, and access to healthcare has been disrupted.
Likewise, moving about the nation is challenging, forcing many citizens to figure out how to handle their needs without assistance. Then there are rampant waterborne illnesses plaguing the country and ruined crops threatening farmers' livelihoods.
As of September 15, Pakistan has lost 1,486 people, according to the most recent reports. Initial estimates suggested the damage came to $10 billion, but officials recently raised that figure to $30 billion.
The United Nations and other countries are sending aid. Military planes are landing in Pakistan, bringing food and goods regularly. Since mid-August, the United States has provided over $50 million in aid, including supplies and support services.
The rainy season has been especially rough because it began earlier than usual. According to AccuWeather, Lead International Forecaster Jason Nicholls explained the monsoon axis was farther south than it typically is, which brought the rain to Pakistan in June rather than taking it up to India. A Nature report noted the extreme heat in the early part of summer also contributed to the high levels of moisture in the region.
Copyright 2022, USNewsBreak.com