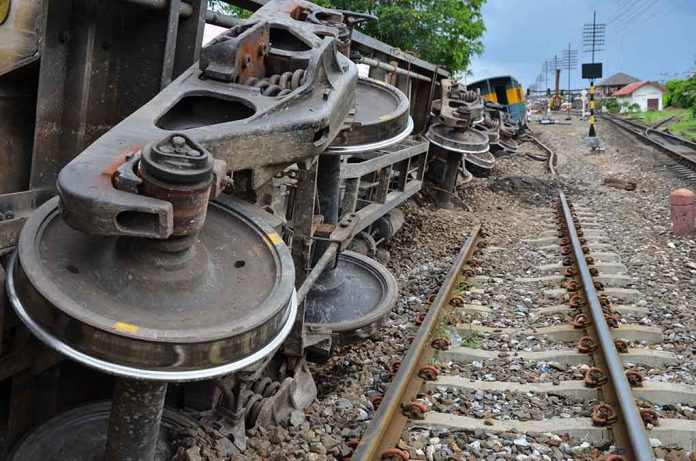 (USNewsBreak.com) – Train crashes have been in the news a lot lately. Just a few weeks ago, one derailed in East Palestine, Ohio, causing a potential environmental disaster. Since then, there have been several more rail incidents across the US. Other countries aren't exempt from train crashes, and one devastating accident just claimed dozens of lives in Greece.
Two Trains Collide
On Tuesday, February 28, a passenger rail with approximately 350 on board heading to Thessaloniki collided with a freight train on its way to Larissa. Dozens of people — at least 57 — have died, and nearly 100 have suffered injuries from the accident, many of them serious. Several people on the train were heading home from a carnival event. Reports have been unclear about what the freight train was carrying.
In the aftermath, four cars of the passenger rail were derailed, with two of them completely destroyed by a fire that erupted amid the chaos. Some people were trapped as the blaze took over the carriages, and authorities have collected DNA samples from potential relatives to identify bodies.
The incident is the deadliest to occur in the country, which is known for having Europe's worst train safety record, according to The New York Times. It's the most devastating accident in terms of deaths in the nation since the 1960s.
Governmental Response
According to The Wall Street Journal, Greek Prime Minister Kyriakos Mitsotakis placed the blame on "tragic human error" in a statement he made after visiting the crash site on March 1. Larissa's station manager, who local news outlets say directed the two vehicles onto the course where they eventually collided, was placed under arrest and will go before a magistrate this weekend. The unidentified individual will face charges of disrupting public transport safety and manslaughter through neglect.
Kostas Karamanlis, the Infrastructure and Transport minister, took responsibility for the accident and resigned. He said the agency had made efforts to improve the railway, but it still failed to live up to the standards of 21st-century travel.
The Greek Government declared a three-day period of national mourning. It also said it would cover the cost of the victims' funerals.
Protests Rock Greece
Following the crash, many people took to the streets in Athens near the Hellenic Train headquarters to show their anger. They clashed in violent encounters with police. The Panhellenic Federation of Railway Employees, a railway union, also went on a 24-hour strike, which means no trains ran on Thursday, March 2.
The cleanup and recovery efforts are still underway.
Copyright 2023, USNewsBreak.com