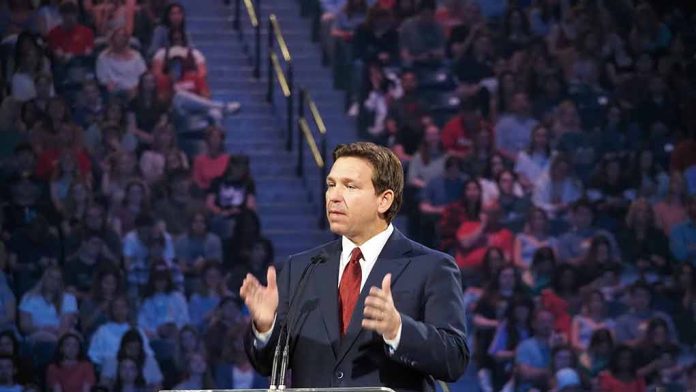 (USNewsBreak.com) – Florida Governor Ron DeSantis (R) is apparently having a hard time with his presidential campaign. At the end of June, he let go of more than a third of his staffers in a shake-up meant to rejuvenate his bid to become the Republican nominee. The campaign eliminated a total of 38 positions. Now, his campaign manager is the latest to see her position shifting.
On August 8, POLITICO reported that sources close to the matter revealed the governor was replacing Generra Peck, DeSantis' campaign manager. She isn't getting the boot; the presidential hopeful is moving her to the chief strategist role. James Uthmeier, DeSantis' chief of staff since 2021, is stepping into the manager role, a move that's taking place with urgency.
Breaking on @MSNBC: Ron DeSantis has just replaced his campaign manager, Generra Peck — the latest move in a reset that's now almost a month in the making.

— Kyle Griffin (@kylegriffin1) August 8, 2023
As of the time of writing, FiveThirtyEight, a political tracking site, reported that DeSantis still trails his biggest competition, former President Donald Trump, with polling numbers of 15.6% to 52.4%, respectively. This result is despite Trump's legal woes; the former POTUS recently received a third indictment in fewer than four months.
A campaign spokesman, Andrew Romeo, confirmed the move in a statement to Axios. He said Uthmeier would be "working hand in hand with Generra Peck and the rest of the team to put [DeSantis] in the best possible position" to gain the Republican nomination.
Peck apparently came under scrutiny by donors and others after over-hiring for the campaign and spending too much money too quickly. Uthmeier will work with other pundits, including Marc Reichelderfer and David Polyansky, who both have campaigning experience. Uthmeier does not.
DeSantis has a lot of ground to make up to have a fighting chance at beating his former ally. Time will tell whether the latest campaign shake-up puts him in a better fighting position.
Copyright 2023, USNewsBreak.com