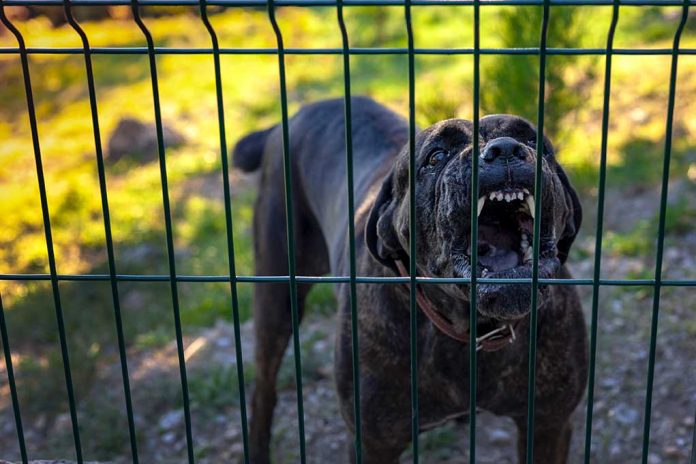 Dog-Fighting Operation Exposed in Georgia
(USNewsBreak.com) – Dog fighting is illegal throughout the United States, and Georgia law makes it a felony to organize or take part in the crime. Authorities take it seriously and conduct extensive investigations to help stop the abusive practice. Officers in Paulding County just took a man into custody for his alleged role in operating an underground ring and are holding him without bail. The Sheriff's Office issued a social media statement on November 11 explaining they had arrested Vincent Lemark Burrell on dog fighting and animal cruelty charges.
Man arrested for breeding and training over 100 pit bulls in "massive dog fighting operation" in Georgia, officials say https://t.co/ZeVborsLlk

— WZMQ 19 News (@wzmq19) November 14, 2022
Officials took Burrell into custody on November 8, after securing search warrants to get onto his property in Dallas, Georgia. At the residence, officers discovered 106 dogs that the man was breeding and training for fighting purposes. He was keeping the animals in deplorable conditions.
The dogs were without food and water and tied to various objects in the yard without proper shelter. Some were inside the home, but the conditions were so bad officers had to wear protective equipment for safety purposes as they waded through urine and feces. The animals lacked appropriate medical care as well, and some were in poor health. Authorities sent all the pups to rescues for rehabilitation.
Authorities continue to push back against dog fighting in the US. While the practice can happen anywhere, many are likely familiar with the high-profile 2007 case against NFL player Michael Vick, who was tried and convicted of funding a dogfighting ring that involved dozens of dogs.
Copyright 2022, USNewsBreak.com