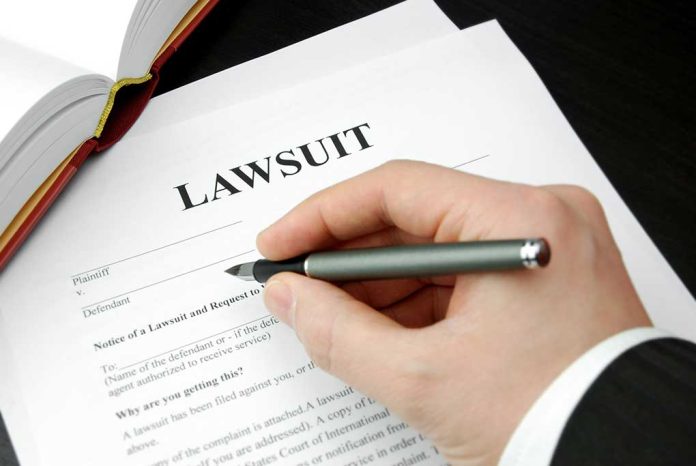 (USNewsBreak.com) – Riots broke out across the country in the aftermath of George Floyd's death at the hands of Minneapolis, Minnesota, police in 2020. They continued for several months while law enforcement agencies in various cities pushed back. One officer with the New York Police Department (NYPD) worked these protests and ended up being punished for wearing a "politically oriented patch," according to the New York Post. She's now suing to recover lost wages.
On February 5, 2021, Sgt. Dana Martillo was working a protest in Fort Greene when someone filming the incident captured her on duty wearing a patch supporting former President Donald Trump. The video went viral, and Martillo was called to task for donning it. She subsequently faced an administrative trial on charges of expressing political beliefs on the job and wearing patches not approved by the NYPD. When Martillo was found guilty, the force suspended her for 10 days and stripped her of 30 vacation days.
NYPD cop sues to overturn 40 days of lost pay for wearing Trump patch on duty https://t.co/IVKv0qiwZu via @nypmetro

— Dan Brosman (@dan_brosman) January 25, 2023
When the video began circulating, the commissioner, Keechant Sewell, tweeted about the NYPD's policy, saying it's "essential to public trust" for members to "remain apolitical."
Members of the NYPD must remain apolitical — it's essential to public trust & officers' ability to perform their jobs. https://t.co/zsTskDO10Z

— Commissioner Sewell (@NYPDPC) February 6, 2021
Martillo's attorney, Joseph W. Murray, filed a lawsuit against the NYPD to recover the lost pay. In a January 26 appearance on Fox News' "Fox & Friends First," Murray claimed the force has a double standard in place, picking and choosing "what to enforce and who to enforce it against."
In the lawsuit, Martillo contends that the judge who oversaw her administrative trial was biased. She also claims she was refused the opportunity to present evidence in her favor and that a witness in the case lied. Further, Martillo said she donned the patch after Trump had left office.
The New York Post contacted the NYPD for comment, and a spokesperson indicated they would review the pending case.
What do you think? Is Martillo right to challenge her punishment, or was she treated fairly for violating policy?
Copyright 2023, USNewsBreak.com