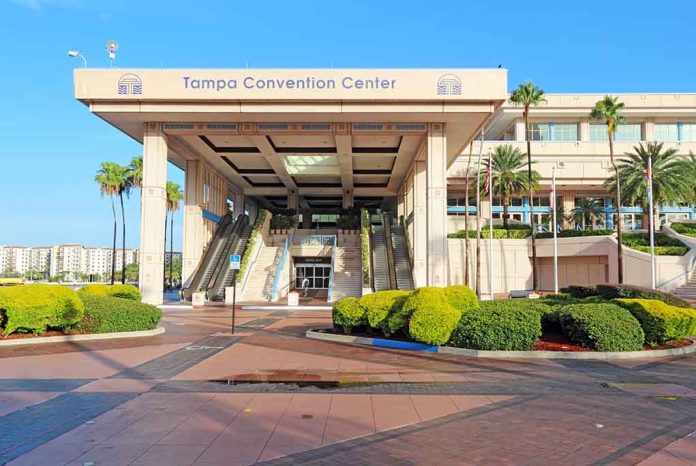 Conservative Event Gets UNWANTED Visitors – Look Who Showed Up!
(USNewsBreak.com) – Turning Point USA (TPUSA) organized an event for young conservatives at the Tampa Convention Center in Florida from July 22 to July 24. However, on July 23, a gathering of neo-Nazi demonstrators showed up outside. They were carrying signs and flags displaying swastikas and antisemitic messages. TPUSA spokesman Andrew Kolvet said in a statement that the organization denounced the behavior of the protesters and had no connection to them.
Turning Point USA condemns neo-Nazi protesters outside conservative convention that drew Trump https://t.co/bjjtTnd6Hd

— The Hill (@thehill) July 25, 2022
The neo-Nazis also handed out pamphlets saying abortions are the work of Jews. There was reportedly also a pro-abortion rights group in the area, but it didn't escalate into violence.
TPUSA security tried to remove the white supremacists from the area, but the guards couldn't do it because the protestors were on public property. Kolvet explained there was no apparent reason why the group was there or what their agenda was. Students from the organization did confront the demonstrators, which led to their dispersal.
TPUSA's Student Action Summit featured a range of well-known Republicans. Speakers at the event included former President Donald Trump and Florida Governor Ron DeSantis. DeSantis hasn't yet said anything about the incident, but some Democratic candidates such as Nikki Fried have been calling on him to condemn the protesters.
Chairman of the Florida Holocaust Museum, Mike Igel, spoke out about the incident, saying it felt like a personal attack to see the antisemitic symbols on display.
As the grandson of holocaust survivors, Igel explained there should be no room in society for that type of demonstration. He also said this is not political and that everyone should condemn these hateful displays.
Copyright 2022, USNewsBreak.com