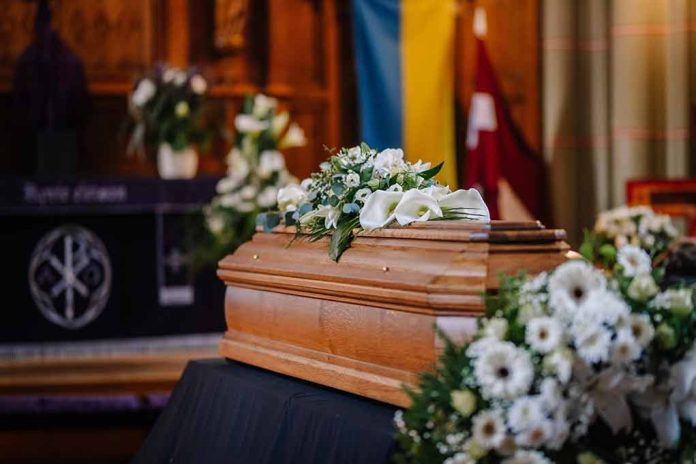 (USNewsBreak.com) – Constituents elected Rep. Derrick Van Orden (R-WI) to Congress last year, and he took office in January. While he was in the midst of getting acquainted with his new job, he was going through some family issues as well, dealing with the declining health of his eldest daughter, Sydney Marie Martenis. Sadly, she recently passed away.
On August 22, Van Orden released a statement saying his child had succumbed to her illness "after a year of battling a very aggressive form of cancer." He said she died peacefully, and her family surrounded her in the final moments. Martenis leaves behind her husband, Chris, and three young children.
Statement from Rep. Van Orden: pic.twitter.com/drkaUTtDvr

— Rep. Derrick Van Orden Press Office (@RepVanOrden) August 22, 2023
Martenis' husband made his own statement regarding his wife's passing, saying "she was exemplary" and "made [him] a better person" by showing him better ways to parent and partner. It's unknown what type of cancer she had.
Several lawmakers, including House Speaker Kevin McCarthy (R-CA), Senator Tammy Baldwin (D-WI), and former Vice President Mike Pence, all reached out to express their condolences to Van Orden.
The congressman has found himself the topic of heated controversy in recent months. In July, he drew attention when he screamed and cussed at a group of teenagers working as Senate pages and refused to apologize for his actions. He said in a statement that the Capitol "should never be treated like a frat house common room." Lawmakers from both sides of the aisle condemned him for the move, including Senate Majority Leader Chuck Schumer (D-NY) and Senate Minority Leader Mitch McConnell (R-KY). He was also outside the Capitol building on January 6.
Prior to his election, Van Orden served in the US Navy for 26 years. When he retired, he did so in the role of Navy SEAL Senior Chief. He has chosen to spend his time representing his constituents and tackling issues that affect the nation, including the border crisis, the economy, and education. He also sits on the Veterans Affairs Committee.
Copyright 2023, USNewsBreak.com