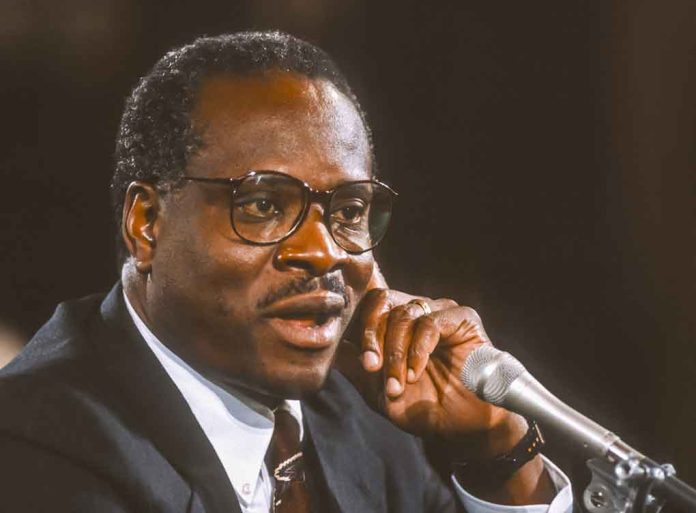 Clarence Thomas Suddenly "UNAVAILABLE" – Was He Forced Out?
(USNewsBreak.com) – Supreme Court Justice Clarence Thomas, who recently gained new notoriety for his part in striking down Roe V. Wade, has served as a Constitutional Law teacher at George Washington University since 2011. It now appears that the conservative judge may be breaking ties with the institution.
An email written by his colleague Gregory Maggs on July 27, which the GW Hatchet later obtained, confirms that Thomas is "unavailable" to teach this upcoming semester. His name was also missing from the university's roster as of the time this article was written.
Justice Thomas Is Suddenly 'Unavailable' to Teach at D.C. Law School After Students Petitioned for His Firinghttps://t.co/4j10hFlSMg

— Law & Crime (@lawcrimenews) July 29, 2022
While the GWU will still host the Constitutional Law course, Maggs will serve as the sole professor spearheading it moving forward. In the same email, he apologized to Thomas' students for having to deliver such "disappointing" news.
These reports come after a group of students who vehemently campaigned for the school to remove his right to teach at the facility over the last few weeks. One petition containing over 11,000 names directly called for his dismissal. Some 50 students also drafted a letter to administrators asking for his removal.
Activists began protesting shortly after the Supreme Court voted in favor of squashing Roe V. Wade in June. Judge Thomas voted in favor of the repeal at the time. He also expressed a number of other controversial viewpoints shortly afterward, triggering a firestorm of outrage among students.
GWU appears to be standing in support of Thomas keeping his teaching position, at least for the moment. Another email reported by the GW Hatchet revealed that the school's provost Christopher Bracey and law Dean Dayna Bowen Matthew believe the conservative justice's presence will inspire healthy student debate. The pair asserted that the university believes in the freedom to express opinions; both individuals feel the same way. However, they were careful to warn that Thomas' views are his own, and do not necessarily represent GWU.
Copyright 2022, USNewsBreak.com