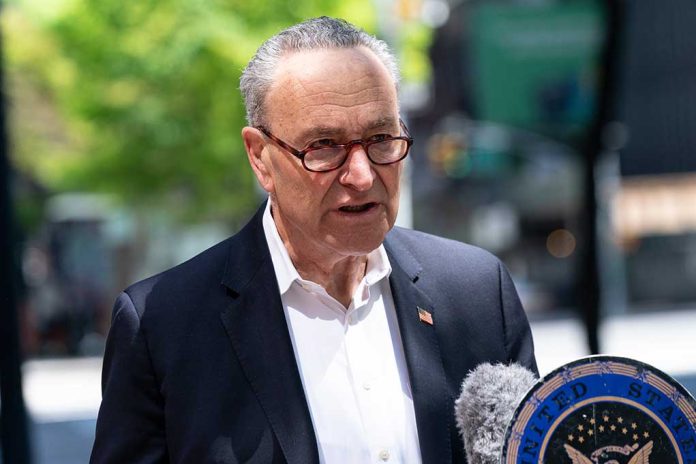 (USNewsBreak.com) – On Tuesday, March 14, House Republicans introduced the Lower Energy Costs Act (H.R. 1), which outlined a plan to increase energy production while cutting costs and eliminating China from material supply chains. It would also repeal parts of the Inflation Reduction Act. While it might make it through the GOP-led House, one senator said there was no chance it would pass through the Upper Chamber.
On Wednesday, March 15, Senate Majority Leader Chuck Schumer (D-NY) dismissed the House bill, delivering scathing remarks on the floor. He called the legislation "as bad and as partisan as it gets," saying it would set the country "back a decade or more in [its] transition toward clean, affordable energy." He further said it was a "dead-on-arrival and unserious proposal," that happens to fall "pathetically short" of what the US needs.
Senate Majority Leader Chuck Schumer pledged that House Republicans' first major bill, a massive energy package, would be "dead on arrival" in the upper house. https://t.co/6iCvIPWwfq

— NEWSMAX (@NEWSMAX) March 16, 2023
Schumer also called for Republicans to work with Democrats on permitting reform to come up with a bipartisan package that strives toward the goal of achieving clean energy. House Speaker Kevin McCarthy (R-CA), in a statement to POLITICO, said he was happy to see some members of the Left join in on addressing the issue, which he says is "long overdue." Even Schumer seemed open to negotiations and hopeful that the two parties could work together to come up with a permitting deal, although the majority leader made it clear that H.R. 1 isn't that solution.
When it comes to the issue, both parties seem to have a hard time agreeing to terms that would pass both chambers of Congress. For instance, last year, Senator Joe Manchin (D-WV) worked on a permitting proposal, which had the support of both the White House and Schumer but failed in the Senate. At the time, Manchin accused Minority Leader Mitch McConnell (R-KY) and Republicans of putting party over country.
If Schumer is right, and the bill is dead on arrival, it will send the House back to the drawing board.
Copyright 2023, USNewsBreak.com