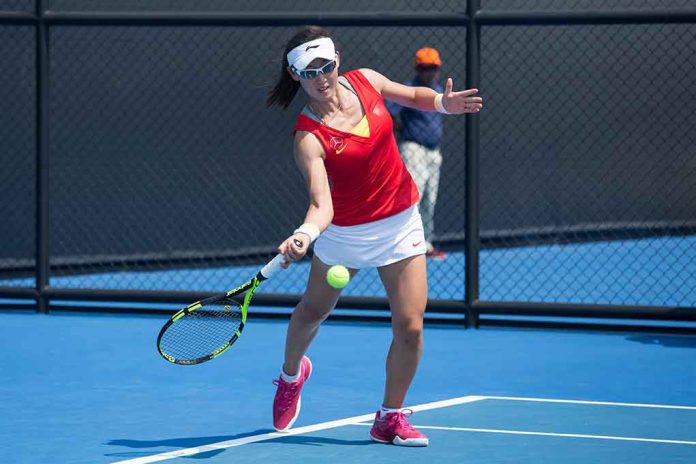 (USNewsBreak.com) – The Winter Olympics in Beijing continue to cause unrest across the global sports community. US officials initially refused to send delegates in response to serious concerns about human rights violations in China. One of the latest controversies surrounding the Communist nation involves the alleged sexual assault of tennis player Peng Shuai who went missing for a short period. Now, there's a new twist in the case.
Singapore media outlet Lianhe Zaobao released a video of Shuai on December 19. The tennis player completely denies accusing anyone of harming her, stating that people misunderstood her original statement in the video.
Chinese tennis star Peng Shuai has said she had never accused anyone of sexually assaulting her.https://t.co/dXRWQVQhsu

— Sportstar (@sportstarweb) December 19, 2021
Notably, Shuai didn't mention former Vice President Zhang Gaoli, the man tied to the alleged sexual assault. She indicated that she spent most of her time at home in response to questions about her whereabouts.
The trajectory of the now-denied sexual assault case has been unusual from the start. Reports say Shuai first accused Gaoli of assaulting her on Weibo, the Chinese version of Twitter, on November 2. The post was deleted a short time later, and Shuai immediately disappeared from the public eye.
People from all over the world immediately began to question whether the Chinese government kidnapped Shuai in a bid to silence her claims. Many shared deep concerns about whether she was safe or if the government sought to censor her.
The tennis star's accusations were deeply consequential, even in her absence. In early December, the Women's Tennis Association (WTA) announced it would no longer hold matches in China due to the incident, sharing concern for her welfare. The WTA refused to return to the country until foreign officials agreed to investigate Shuai's allegations.
The Chinese government has yet to even respond to the sports star's claims. However, it did respond to the WTA decision, saying only that it is against politicizing sports.
Copyright 2021, USNewsBreak.com