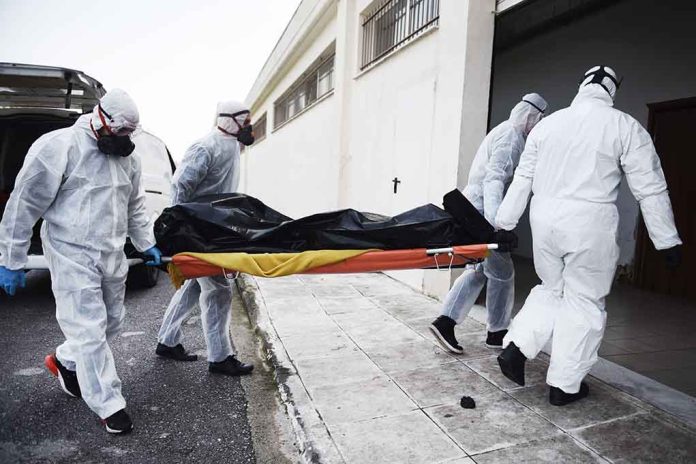 Chinese Officials Threw Man In BODY BAG – He Was Still Alive
(USNewsBreak.com) – China's zero-tolerance COVID-19 policy has put excessive strain on the country. Various cities, including Shanghai, have been under forced lockdowns, which is causing a lot of stress on industry and healthcare. In a recent BBC report, it was revealed that workers accidentally hauled off a man in a body bag who wasn't dead.
Disturbing viral video shows elderly Shanghai man taken away in a body bag — while still alive https://t.co/PWh3dOfERY

— TheBlaze (@theblaze) May 4, 2022
A video surfaced online on May 1 showing mortuary workers loading a body bag into a hearse outside a Shanghai care home. They eventually opened the bag to see the man inside was still alive. The incident outraged viewers.
The BBC reported government officials confirmed the details in the video on May 2. They said medical personnel transported the man, whom they did not identify, to the hospital, where he remains in stable condition. Officials also announced they fired four people associated with the situation and revoked the medical license of one doctor involved. They continue to investigate what happened.
According to the BBC, a Chinese social media user posted that the incident was indicative of the "chaos" occurring due to the government's strict COVID-19 policies. The BBC noted it had published other evidence that Shanghai authorities are struggling with the current conditions in the city.
Copyright 2022, USNewsBreak.com