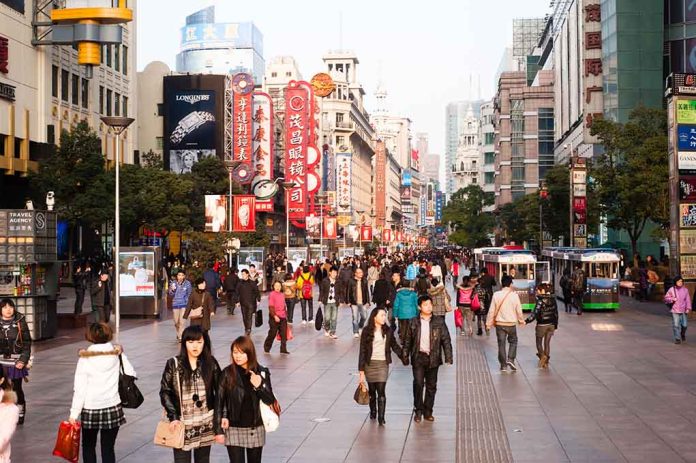 China's RED FLAG Appears – Could It Spell Disaster?
(USNewsBreak.com) – China had some of the most extreme policies in place concerning COVID-19. Even one case of the virus would result in widespread lockdowns and zero movements within the country. While the no-tolerance approach impacted the economy, experts say it isn't the only issue causing the nation's Gross Domestic Product (GDP) to tank. They also blame problems with factories rebounding from the pandemic and a real estate market on shaky ground.
China's Troubled Property Situation
In an interview with Fox News Digital, Craig Singleton of the Foundation for Defense of Democracies noted that the financial system has been in a slump for a while but now is on the fast track to a slowdown. He said problems are deep and systemic; the housing market plays a significant role because it makes up 30% of Chinese GDP. When it falters, so does the whole economy.
A July 31 report in the Wall Street Journal about a survey from Chinese real estate data provider CRIC shows that the top 100 property developers' sales were down in July by 39.7% compared to the previous year. That's a loss of about $77.6 billion. The numbers were 28.6% lower than in June, indicating a downward slide.
At the heart of the situation are concerns over builders being unable to deliver apartments currently sitting unfinished, according to WSJ. These companies sold the properties before they were complete, but funding issues arose in 2021, holding up jobs.
Developers were quick to push purchases in June. There was a two-month recovery period in which sales were up, and the industry was doing great. But now, buyers are frustrated. They've threatened to stop paying their mortgages if construction doesn't continue.
While July is often a slow month, the buyer revolt has had a huge economic impact. In addition, the new building problem is sending people looking to make purchases toward existing homes or to state-owned builders. WSJ reports that some areas have already tried multiple solutions like cutting interest rates, offering subsidies, and reducing down payments, but none of these efforts are helping.
China's Faltering Factories
The real estate market is seriously affecting the economy, but factories also play a role. The Manufacturing Purchasing Managers Index decreased from 50.2 in June to 49 in July, according to a report from Bloomberg News. A showing under 50 points alludes to shrinking within the industry.
A recent COVID-19 outbreak caused serious impacts on businesses in Shenzhen, a major city for manufacturing. The situation led to calls for easing virus protocols to stop the inference that is infringing recovery.
The Caixin manufacturing PMI, which covers smaller and private companies, also showed weakness. Bloomberg reported that it stayed above 50 points but barely at 50.4. The number was down from 51.7 in June, which is not encouraging.
The industry is not only suffering from the effects of virus policies, but also a reduction in spending by consumers and less demand globally. Without some help from leaders, a rebound could be more challenging.
The Outlook
Since the beginning of the coronavirus pandemic, GDP is at its slowest in China. Bloomberg reports that experts believe there needs to be government intervention to help stimulate the economy and push growth. The Chinese Communist Party already decided that it wasn't ready to loosen COVID-19 policies on July 28. Officials claim to be focusing on doing the best they can to solve the economic problem, but no one is offering specific numbers or explanations as to what that means.
The International Monetary Fund projected that the growth would be 3.2% for 2022, which is nearly half of the previous year's figures. Chinese leaders blame a slowdown that is much worse than anyone anticipated. Time will tell whether or not the country can get itself back on the right track soon.
Copyright 2022, USNewsBreak.com