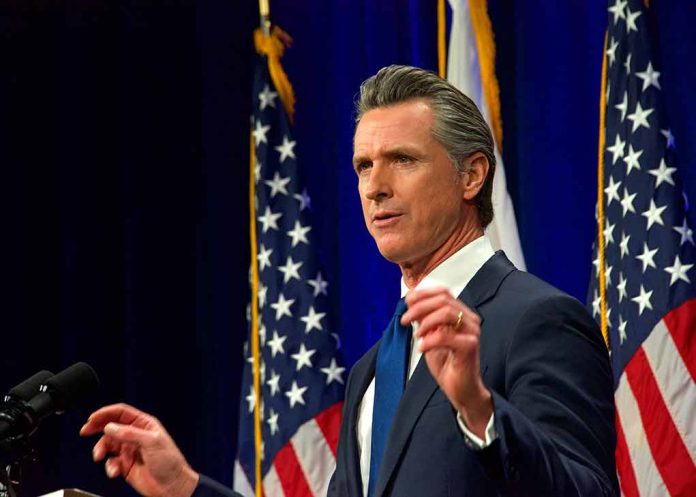 (USNewsBreak.com) – San Francisco, California, has a severe homelessness problem despite efforts to address it. A number of encampments litter the streets, many within a short distance of the city's schools. Officials have tried to clean up the streets, but lawsuits have halted their progress, barring them from acting. Now, Governor Gavin Newsom (D) is getting involved.
Recently speaking with the San Francisco Chronicle, Newsom called a court order issued in December by US Magistrate Donna Ryu "preposterous" and "inhumane." Ryu's injunction keeps the city's officials from cleaning up the tent encampments that litter parks and streets. So far, San Francisco has spent billions trying to sanitize the city and help those without homes get off the streets.
California to intervene in case blocking San Francisco from clearing homeless encampments, Newsom says https://t.co/ZbtXT4CaGg

— Fox News (@FoxNews) September 13, 2023
Mayor London Breed (D) numbers among those calling for the court to lift the injunction. She said allowing people to live in tents on the streets is "not humane," and she hopes the court will overturn the order. However, Ryu issued the injunction in December after homeless advocates took the matter to court. They accused city officials of failing to provide shelter to those they were removing from the streets, a move they said was illegal.
Additionally, the advocates accused city officials of throwing away people's belongings as they cleared encampments, including medication, cell phones, identification, and other necessities. The lead attorney for the Lawyers' Committee for Civil Rights, Zal Shroff, said the officials were pursuing it all wrong. Instead of trying to solve the homelessness problem at its root, "all they're doing is moving [it] around."
Newsom surprised some people when he said he hoped the case would escalate to the Supreme Court, "and that's a h*ll of a statement coming from a progressive Democrat." His administration plans to file an amicus brief so that the governor can intervene in the case by providing information to the court to aid the city's efforts.
Copyright 2023, USNewsBreak.com