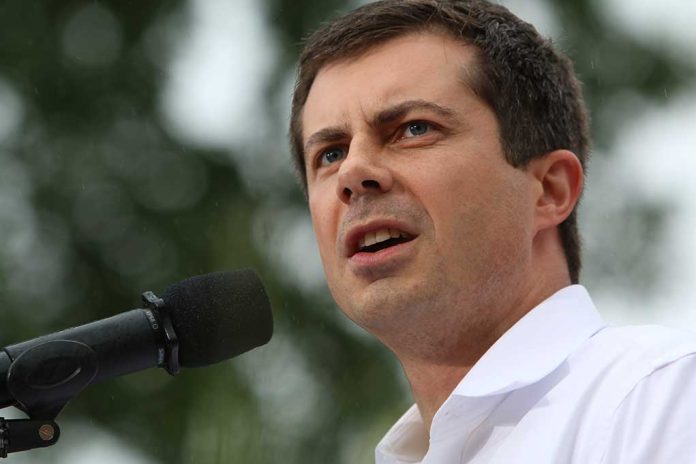 (USNewsBreak.com) – On Friday, February 3, a Norfolk Southern train derailed in East Palestine, Ohio, near the Pennsylvania border. Of the 149 cars, 50 derailed, 10 of which contained chemicals. In the aftermath, officials opted to contain the substances in what they called a "controlled release," which emitted a dark, billowing smoke cloud into the air. The incident could have repercussions. Many residents still don't feel comfortable being home, and those in the community are posting videos of polluted waterways and dead animals.
For more than a week after the accident, Transportation Secretary Pete Buttigieg failed to address the matter, drawing criticism from both sides of the aisle. Now, he's calling for Norfolk Southern to take responsibility for the needs of the community.
The Letter
In a letter addressed to President and CEO Alan Shaw dated Sunday, February 19, Buttigieg calls on the train company to do the right thing. He says the accident "upended the lives of numerous residents," with many expressing concerns about their "immediate health and safety" in addition to the "long-term effects of the dangerous materials released near their homes."
Buttigieg goes on to say the company failed to work with legislators on critical safety measures and chose instead to spend millions lobbying against them. He calls on Shaw to "live up to its commitment to make residents whole," and take the necessary steps to clean up the surrounding area where the toxins were released. Buttigieg also points out Norfolk Southern's successful business and its profitability, insinuating the company can afford to implement safety guidelines without drastically affecting its bottom line.
The Damage
On Friday, February 17, Ohio Governor Mike DeWine (R) said the area was safe to return to and that the toxins that had entered the waterways no longer posed a risk. Yet, the community's residents tell a different story. They complain of burning eyes, headaches, dizziness, and strong odors in the area.
Others, including newly elected Senator J. D. Vance (R-OH), have visited the area, claiming that there is pollution in the water that needs to be addressed.
Visited a local creek in East Palestine today. These waterways are still very polluted. It's time for Norfolk Southern to finish the cleanup. Check this video out: pic.twitter.com/4lsHBmrMJj

— J.D. Vance (@JDVance1) February 16, 2023
According to a report by CBS News, Ohio's Department of Natural Resources Director Mary Mertz said there have been thousands of dead fish found in the waterways near the derailment and subsequent release of toxins. Others in the community say they've lost pets and some have suffering animals as a result.
Buttigieg stated that The National Transportation Safety Board is continuing to investigate the derailment, and the Federal Railroad Administration is looking into whether there were safety violations.
Copyright 2023, USNewsBreak.com