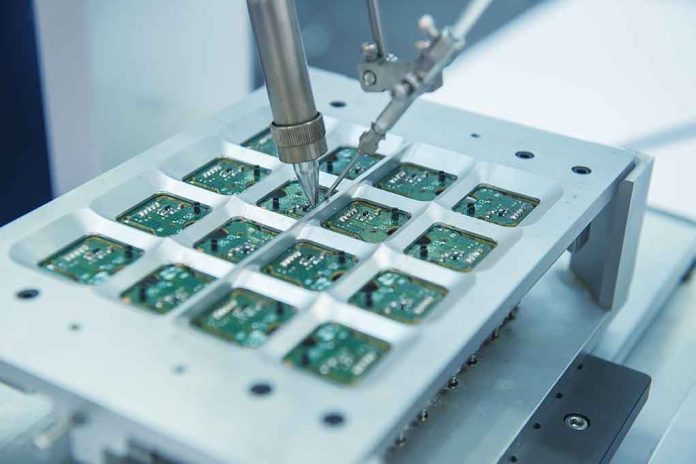 Lawmakers PASS IT – After All This Time!
(USNewsBreak.com) – President Joe Biden signed the Chips and Science bill into law on Tuesday, bringing an end to a long and grueling process in both chambers of Congress. What began as the elusive bipartisan bill grew into a massive proposal that aims to provide billions to an industry in direct competition with tech-savvy Asian countries. Biden signed the bill in a nearly hour-long ceremony at the White House.
The bill states that around $52 billion will go to building infrastructure for manufacturing semiconductors in the US, and over $80 billion will head to the National Science Foundation over the next half-decade.
The new legislation is designed to not only increase chip manufacturing on US soil, but also help to resolve current supply chain issues. Supporters say it will bring more jobs to Americans as well as decrease our dependence on other nations. Biden has high hopes that this new law boosts the economy and allows the United States to become the leading producer of semiconductors.
The bill moved slowly through Congress, with many variables at play. First and foremost, it required true bipartisanship, as only budget reconciliation packages, not new legislation, are exempt from the Senate filibuster. That meant getting 48 typical votes from the left, plus their two holdout senators, Joe Manchin (D-WV) and Kristen Sinema (D-AZ).
On top of that, 10 Republicans had to join the fight. With so many interests to satisfy, the bill crept along at an incredibly slow pace until it finally won the appropriate approval from lawmakers. In the end, 64 senators and 243 representatives voted yes, enough to send the long-anticipated legislation to President Biden's desk.
What do you think of the chips bill?
Copyright 2022, USNewsBreak.com