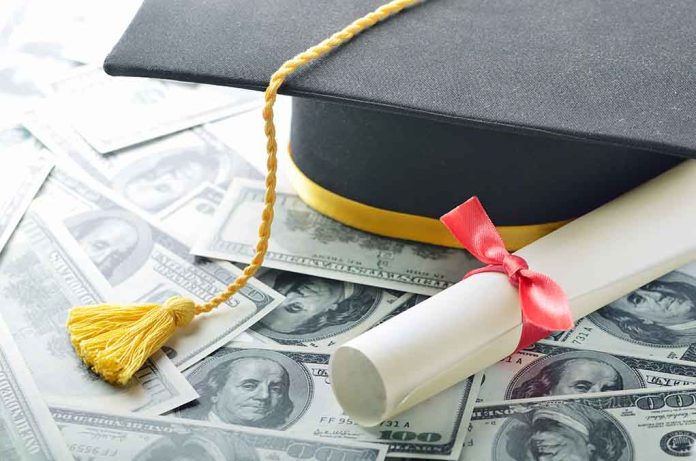 Biden Floats NEW Handouts For Students – Can You Believe This?!
(USNewsBreak.com) – During his campaign, President Joe Biden made promises to forgive student loan debt. Politifact reported in January that he specifically said he would wipe out loans for people making under $125,000, but he has yet to make good on the pledge. The Wall Street Journal reported that the president, under pressure to make a move before the midterm elections, might be closer to fulfilling his promise.
The Latest Word From the White House
On May 3, during a meeting with the press, White House Press Secretary Jen Psaki explained the president is considering the options to forgive student loan debt for people earning under $125,000. According to insiders, the administration has been working on a solution for months.
The Wall Street Journal reported advisers have talked about an executive order but voiced concerns that it may not be legal to forgive debt in that way. There is also worry over the potential backlash from people who've already paid their debts and feel betrayed. Some advisers are onboard with the plans, saying it would help out low- to middle-income earners, and they touted how popular the idea is with younger voters.
In remarks on April 28, President Biden said he is "considering dealing with some debt reduction," but he clarified that it would not be the $50,000 some people were expecting. He promised "there will be additional debt forgiveness" and said he'd reveal the rest of his plan in the coming weeks.
Support From the Left
Biden has quite a bit of support from others on the Left who feel reducing student debt is essential. Senator Bernie Sanders (I-VT), in conjunction with other lawmakers, stated that it would be one of the best options to "address racial and economic equity issues."
In a letter on March 31, the lawmakers urged the president to cancel outstanding student loans, calling it a "historic opportunity."
Opposition From the GOP
The Hill reported on May 3 that House Minority Leader Kevin McCarthy (R-CA) called this idea an "absurd fiscal policy." He said it would do nothing to help the current economy and would make the situation worse.
Representative Jason Smith (R-MO) stated it would be an assault on everyone who worked hard to pay back their loans. Representative Jim Banks (R-IN) categorized it as "obscene and immoral."
Despite pushback, Biden is under a lot of pressure. The midterms are approaching quickly, and the current atmosphere doesn't look good for the Democrats. Could forgiving student loan debt sway some voters and help the Left to hold on to seats in Congress?
Copyright 2022, USNewsBreak.com