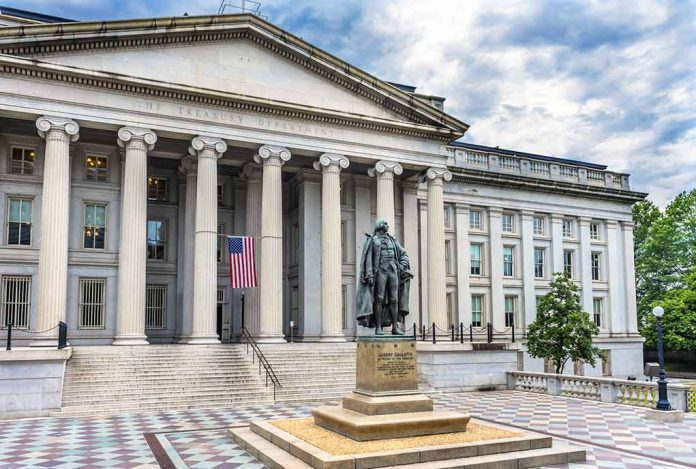 (USNewsBreak.com) – The United States has a serious drug problem, namely fentanyl. In 2022, over 105,000 people died from overdoses, with more than 72,000 of those attributed to the synthetic opioid, according to the CDC. In April 2023, the Biden Administration announced its "strengthened approach" to hit the supply chains as part of its National Drug Control Strategy. Now, it has issued sanctions against individual and entities in two countries for the roles they play in the epidemic.
On Tuesday, May 30, the Treasury Department's Office of Foreign Assets Control (OFAC) announced it had taken action against "17 individuals and entities" in Mexico and China. They were reportedly involved — directly or indirectly — in the "proliferation of equipment," such as die molds and pill press machines, used in the production of illicit drugs. The equipment was allegedly used to imprint "M30" and "Xanax" onto pills that contained fentanyl in an effort to hide the true contents.
According to the announcement, Brian Nelson, Under Secretary of the Treasury for Terrorism and Financial Intelligence, noted that "Counterfeit pills laced with fentanyl constitute a leading cause" of deaths involving the drug in the US.
Reuters reported that the United States has tried to work with China to stem the illicit flow, but due to escalating tensions and a souring relationship between the two countries, the Asian nation has been uncooperative. Liu Pengyu, a spokesman for China's Embassy in Washington, DC, decried the move, saying it would add more fuel to the fire rather than help matters and that it was an attempt to deflect blame.
According to the Treasury Department, a number of agencies were involved in the efforts to identify the sanctioned parties, including the Drug Enforcement Administration, Homeland Security Investigations, and the US Customs and Border Protection agency. The OFAC also worked closely with Mexico's Financial Intelligence Unit.
Six individuals and seven entities sanctioned are from China, while one entity and three individuals hail from Mexico.
Copyright 2023, USNewsBreak.com