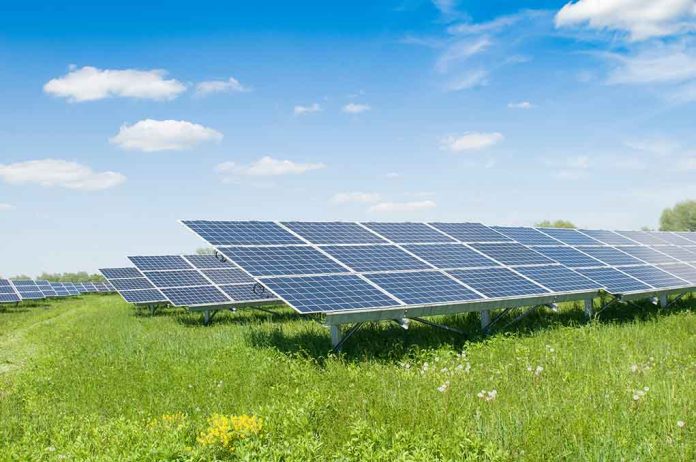 White House ANNOUNCEMENT – Biden's New Energy Plan Revealed!
(USNewsBreak.com) – Since before taking office, President Joe Biden made it clear he had a strong climate change agenda. He began putting some of his ideas into action on day one in the Oval Office, and he's continued to take steps to push the United States away from its reliance on coal and oil. Now, he is instituting tariff waivers to encourage solar and other renewable energy sources.
Tariff Freeze
On June 6, the Biden administration announced it would impose a 24-month freeze on tariffs for solar panels. The reveal came as part of a move to increase domestic clean energy manufacturing.
The president will also invoke the Defense Production Act (DPA), which will help the government increase production of technology while aiding the development of the solar manufacturing industry. Biden authorized the use of the DPA for heat pump and solar panel manufacturers, power grid infrastructure, and related equipment needs. Biden said in a Tweet that the decision would "lower energy costs, strengthen the power grid, and create good-paying jobs."
The White House said this policy would help US manufacturers to compete with foreign companies. It's also intended to help bring down energy costs by moving America to a cleaner option.
Spurned by Fears
An investigation in California by the Commerce Department helped push ahead this move by the Biden administration. Utility companies worried the inquiry would increase import duties on solar parts coming from foreign nations. The initial complaint that led to the probe accused companies of bypassing tariffs by pushing goods through Malaysia, Thailand, Cambodia, and Vietnam. Officials warned the result of the inquiry could be a retroactive imposition of fees.
Pushback
Some people aren't buying what the White House is saying about this move. The Chief Executive of Auxin, the company under investigation in the Commerce probe, accused the president of interference. He called the action "potentially illegal" and claimed it would allow China to manipulate US fair trade laws.
Support
Not everyone is against the new policy. Companies associated with the solar industry are happy about the developments. The stock market also showed a positive impact with increases for various solar-related shares.
The Solar Energy Industries Association president and chief officer, Abigail Ross Hopper, said the move would help the industry get relief because the investigation is taking a heavy toll. She claims in two years, solar manufacturing could bounce back and return to rapid production.
Some regions in the United States have concerns about blackouts, and the solar industry is currently unable to produce enough to meet widespread demands. Do you think the added resources could help put the country back on track?
Copyright 2022, USNewsBreak.com