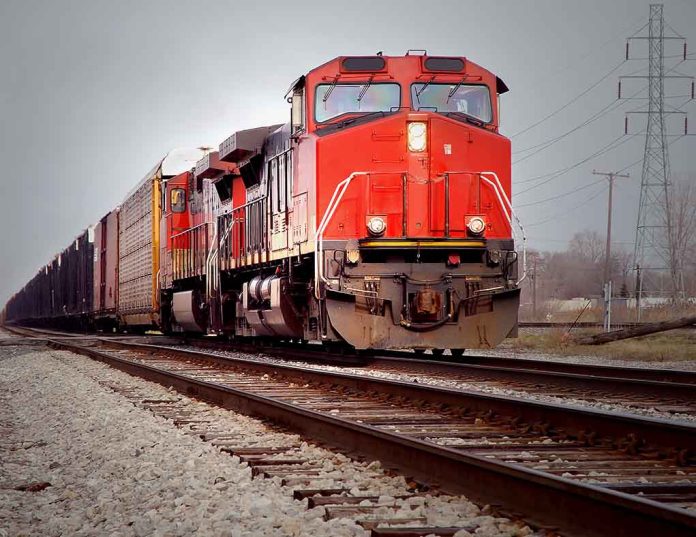 (USNewsBreak.com) – On February 3, approximately 50 cars of a Norfolk Southern train derailed in East Palestine, near the Ohio-Pennsylvania border. Making matters worse, 10 of them contained chemicals, including vinyl chloride and butyl acrylate, sparking concerns of an explosion. Officials conducted a controlled release to offset this dangerous possibility. In the aftermath, a huge plume of smoke could be seen for miles. While residents in the affected area were told to evacuate, they soon received the all-clear to return home, but many quickly complained of severe symptoms. Recently, the Biden administration has been catching flak — from both sides of the aisle.
Residents nearby have been worried about the effects of the chemical spillage in their area. However, Pete Buttigieg, the Transportation secretary, had failed to publicly address the incident in the days after, which drew criticism from even progressive Democrats Nina Turner, a former state senator, and Rep. Ilhan Omar (D-MN).
He jokes about balloons while ignoring East Palestine, OH.

We deserve better than this. pic.twitter.com/tAcNniSPMQ

— Nina Turner (@ninaturner) February 13, 2023
Buttigieg finally took to Twitter on Monday, February 13, to provide an update in a series of posts. He noted that the Department of Transportation has been assisting the National Transportation Safety Board in its investigation. As of Monday, February 13, he said the Environmental Protection Agency (EPA) had swept 291 of the 472 homes in the affected area, with the others pending. There were no detections of chemicals in the residences the EPA checked. He also listed a number for people to call to request screenings.
USDOT has been supporting the investigation led by The National Transportation Safety Board (NTSB). Our Federal Rail Administration and Pipelines and Hazardous Materials teams were onsite within hours of the initial incident and continue to be actively engaged.

— Secretary Pete Buttigieg (@SecretaryPete) February 14, 2023
But for some, the posts came too late, and a few lawmakers have even called for an inquiry into his handling of the derailment. Some even begged Biden not to let this become another Flint, Michigan.
While officials said they took care to ensure the chemicals remained contained, thousands of dead fish were found floating in waters nearby, and there were complaints of other animals in the area dying.
On February 16, EPA Administrator Michael Regan visited East Palestine to address concerns about the issue. He promised Norfolk Southern would be held "accountable," and that he and Governor Mike DeWine held discussions on the matter. However, a spokesperson told Fox News Digital that DeWine has been seeking aid from the Federal Emergency Management Agency (FEMA), but has been unsuccessful so far.
Copyright 2023, USNewsBreak.com