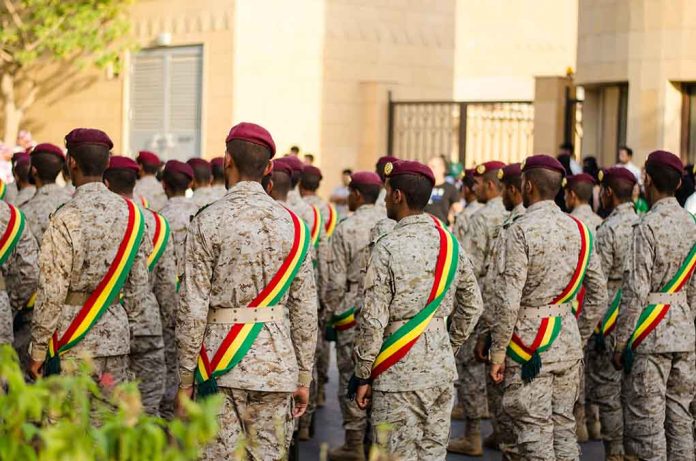 Biden Admin Could Send 300 MISSILES To Foreign Nation – Guess Which One?
(USNewsBreak.com) – President Joe Biden's State Department cleared the way Tuesday for an arms deal with Saudi Arabia. The Defense Security Cooperation Agency (DSCA) says in a press release the sale of 300 Patriot missiles to the Arab nation, worth about $3.05 billion, can move forward. The determination is a necessary formality for all international arms deals.
Quid Pro Quo? Probably Not.
The move came not long after Biden visited the Arab nation, meeting with King Salman bin Abdulaziz al-Saud during his stay. Oil production from Saudi Arabia increased, slowly lowering fuel prices. The change has prompted some speculation about whether the president offered to approve the sale in return for the Gulf Coast country's increased output.
According to the DSCA, the missiles aren't a new development. The Saudis have already purchased and used batteries of previous versions of the defensive surface-to-air ordinance. They regularly deal with unmanned aerial systems and ballistic missile threats from the Houthi, a Yemeni group that has been determined to destroy the Middle Eastern country since the early '90s.
Restocking the country's supply of Patriot missiles will have no bearing on the balance of power in the region, nor will the loss decrease the US military's own readiness, according to the DSCA press release. The release indicates the weapons are for the defense of the Saudis, the infrastructure of the region, and the Americans living there. The transaction itself, if it happens, will be between the Gulf kingdom and Raytheon, headquartered in Tewksbury, Massachusetts.
The Other Elephant in the Room
While there may be nothing more to the deal than what the DSCA reported, there's still an air of controversy around any dealings with Saudi Arabia. It wasn't long ago international journalist and political dissident Jamal Khashoggi was allegedly assassinated by people closely associated with Crown Prince Mohammed Bin Salman, who was also present for Biden's meet and greet. Bin Salman is, for all intents and purposes, the day-to-day ruler of the kingdom.
The CIA believes the prince is guilty of setting up the hit. Khashoggi was ambushed at a Saudi consulate in Turkey when he went to get documents for his planned marriage to a native woman. The investigation into what happened offers compelling evidence. The agency doesn't believe the future king, the man essentially in charge, could possibly have been out of the loop. However, Bin Salman denies any involvement, and the issue has fueled tensions between Saudi Arabia and the US in recent years.
Is it a good idea for the president to pander to the individuals who are accused of being responsible for Khashoggi's death?
Copyright 2022, USNewsBreak.com