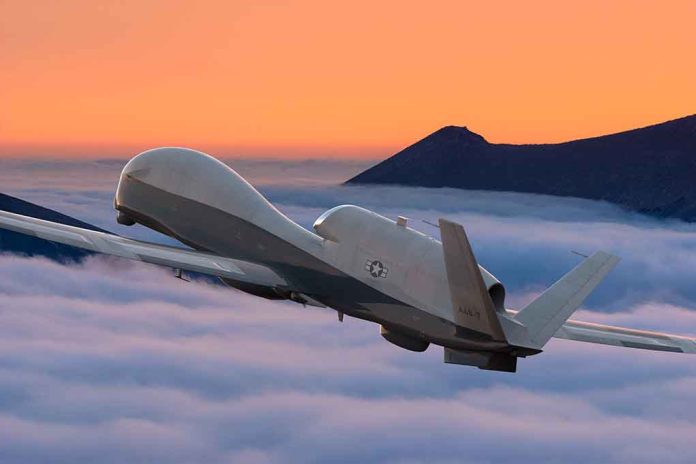 (USNewsBreak.com) – On Tuesday, March 14, two Russian fighter jets encountered one of the United States' MQ-9 Reaper drones over the Black Sea. The Pentagon later released footage showing one of the planes colliding with the unmanned aerial vehicle (UAV). The $32 million drone ended up being a loss after the US military intentionally downed it. In the aftermath, Russia launched efforts to recover all or parts of the UAV, and it may have succeeded.
According to a New York Times report, the publication obtained audio recordings of the Russian military's efforts to recover debris from the device, taken by radio hobbyists. The civilians were monitoring public airways when they came upon the communications, which involved several ships and aircraft and spanned close to four hours. The details revealed by the chatter helped the hobbyists identify the location, which happened to be around the area where the drone went down.
Russia Jet Shoots Down U.S. Drone 🇷🇺🇺🇸💥🛩️😳 pic.twitter.com/3So4bdNiCa

— The Man o Way (@raphousemedia) March 16, 2023
In the aftermath of the drone's loss, the Pentagon said it had taken necessary steps to ensure no sensitive information was at risk of exposure. According to the New York Post, Defense Secretary Mark Milley said the military applied "mitigating measures," and what was left was "no longer of value." National Security Council spokesperson John Kirby echoed the same sentiment in an interview with CNN, saying that the United States "isn't overly concerned about whatever [Russia] might get [its] hands on."
The stories between the two nations differ vastly. Russia said the drone went down on its own after "quick maneuvering" failed, while the US says Russia deliberately targeted and collided with the UAV, damaging a propeller. The two pilots involved were subsequently honored for their efforts in keeping the device from entering its airspace.
The US military won't be deterred by the action. It plans to continue routine drone flights in the area, which it says is international airspace.
Copyright 2023, USNewsBreak.com