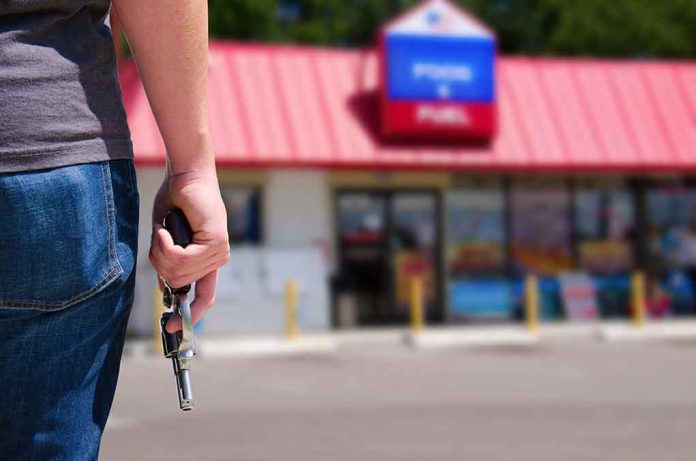 Robbers Pull WEAPONS – But The Employee Had A Gun Too
(USNewsBreak.com) – On May 3, an employee at the Smoke Shop in Compton, California, had to make some quick decisions when armed robbers came into the store. Fox News reports four individuals brandishing handguns entered the shop and threatened the employee. The worker then pulled out his own gun, and shots rang out.
Los Angeles armed suspects scramble for cover after employee whips out his own gun https://t.co/sgLnBKeA1a

— Fox News (@FoxNews) May 5, 2022
The Los Angeles Sheriff's Department released security camera footage of the incident. It shows the employee, wearing a security vest, standing behind the counter as the four men enter with firearms. He then pulled his gun, and the five individuals exchanged gunfire while the four criminals tried to flee the scene. The would-be robbers were tripping and falling as they attempted to run. The employee suffered shots to the face and neck, but the hospital treated and released him.
Officials from the sheriff's department told Fox News they got a call about a half-hour after the incident from Martin Luther King Hospital. A gunshot victim that medical personnel had admitted ended up being one of the four suspects. He later died from his wounds.
The department arrested another suspect the next day, but two others remain at large. Officers are looking for Kahlel Lundy and Keith Rachel. Both men face robbery and murder charges.
Copyright 2022, USNewsBreak.com