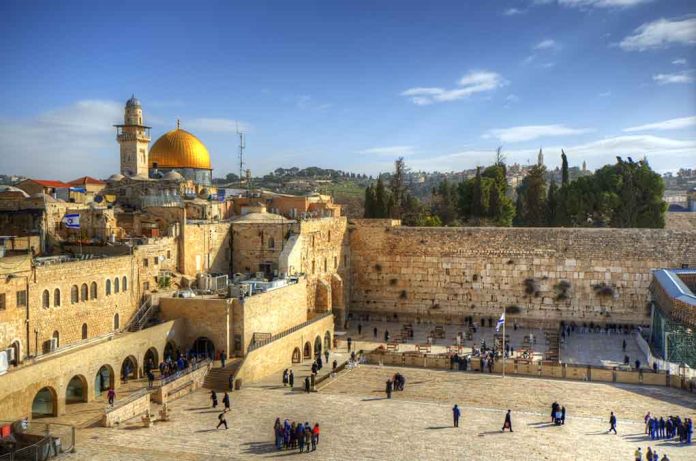 (USNewsBreak.com) – When American citizens visit other countries, they're expected to obey the nation's laws. Otherwise, they can find themselves in trouble with the local authorities. Such is the case with a man who recently traveled to Israel and was caught allegedly vandalizing a statue of Jesus Christ.
On Thursday, February 2, Israeli police took an unnamed American man into custody. He reportedly pulled down the statue in the Church of the Flagellation in Jerusalem's Old City. A security officer is credited with helping to capture the man, who is in his 40s. According to videos circulating on social media, the suspect was held in place while a man sat on top of him until authorities could arrive.
American tourist arrested for vandalizing Jesus statue at Old City church in Jerusalem https://t.co/LBFud4wv5O

— Fox News (@FoxNews) February 2, 2023
During the incident, the suspect screamed out, "You can't have idols in Jerusalem,[sic] this is the holy city," according to Fox News. Authorities are not only investigating the alleged vandalism, but they're also looking into the man's mental state to determine if he was suffering a crisis. News outlets reported that a police spokesperson said authorities take these crimes "very seriously" and "will continue to act against acts of violence and vandalism in the holy places of all religions."
The Franciscan organization Custodia Terrae Sanctae, which oversees the care of Catholic holy sites, also released a statement condemning the attack and demanding the Israeli government and authorities take the appropriate actions to up the security in these locations.
This alleged act of vandalism is the fifth to occur on holy sites. A week prior to the February 2 incident, a group vandalized New Gate and several tourists by throwing furniture and glasses. Another recent incident involved a Christian cemetery, also located in Jerusalem.
At this time, it's unclear who the suspect is and whether the US government has been involved in any talks regarding the incident.
Copyright 2023, USNewsBreak.com