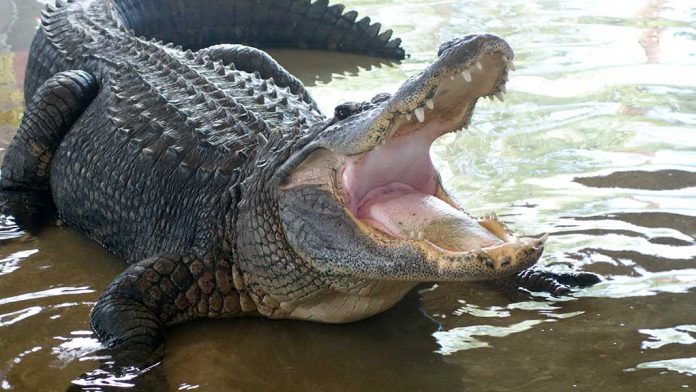 (USNewsBreak.com) – Category 4 Hurricane Ida slammed into Louisiana's coast on August 29, 2021. New Orleans' sewer system and electrical grid went down almost immediately afterward, leaving thousands without access to utility services.
Officials quickly responded to the crisis by ramping up search and rescue efforts despite anticipating fatalities in the wake of the storm's wrath.
One of the most shocking losses occurred in Slidell, Louisiana, which sits in the middle of a flood zone and swamplands. Waters rose as Ida breezed through the area. This prompted alligators to venture forth in search of food within the floodwater-devastated site. They weren't exactly interested in being friendly with the locals, either, as one man found out.
On August 30, a 71-year-old man stood outside his Avery Estates home surveying the damage. His wife, who remained indoors, heard a commotion and rushed outside to respond.
She then witnessed an incident no wife should ever have to watch: an alligator violently attacking her husband.
Man attacked by alligator in flooded Louisiana waters after Hurricane Ida https://t.co/yomeeUdPkU via @usatoday

— USA TODAY Weather (@usatodayweather) August 31, 2021
The Avery Estates resident jumped into action, pulling her husband out of the water to safety. She then ran back into the house to retrieve first aid supplies. But first aid alone wouldn't be enough to save his life. The Avery woman ventured forth in her canoe, hoping to call on support from others in the area.
By the time she returned, her husband had disappeared into the murky depths. Authorities continue to comb the local floodwaters for the man's body, as he is presumed dead.
According to experts, alligator attacks are normally rare, even in floodwater conditions. These dinosaur-like animals usually stick to their existing habitats during a storm. Yet, as waters rise, they get curious and begin to explore their newly accessible zone for food, raising the risk for a bite.
Copyright 2021, USNewsBreak.com