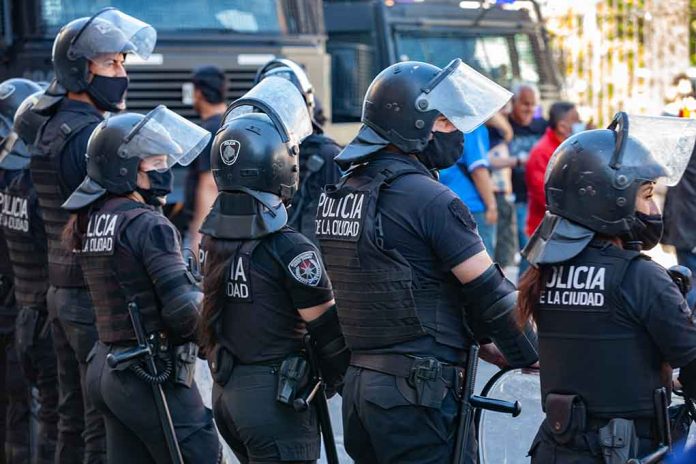 Assassination ATTEMPT Reported – Authorities Spring Into Action!
(USNewsBreak.com) – Argentina's Vice President Cristina Fernández de Kirchner was walking to her home, saying hello to supporters who had gathered nearby when she almost lost her life. Right outside her house in Buenos Aires, a man walked up to her and pointed a gun only inches from her face. The incident was unheard of in a nation that hasn't seen political violence since the 1980s. Here's what we know about this developing story.
The Terrifying Scene
A video made its rounds online on September 1, showing what happened. It showed the man lifting his arm to aim at the vice president's head. He pulled the trigger, and Kirchner covered her head and ducked. But something went wrong, and the gun didn't fire. Authorities quickly took the man into custody.
The 35-year-old male who allegedly attempted to assassinate the leader was Fernando Andre Sabag Montiel. He lived in Argentina as a young child but was born in Brazil. During the investigation, police found ammunition in his apartment. His criminal record also revealed a previous arrest for a weapons charge. Images of the man showed tattoos of symbols associated with neo-Nazism. However, there's been no word from police on a motive yet.
The Background
It's notable that the political scene has been tense in the nation, with leaders fighting amongst themselves and deep divisions even among party members. Kirchner follows more extreme Left views, while President Alberto Fernandez expresses moderate political opinions. The atmosphere remains tense, especially because Kirchner is also battling legal issues stemming from allegations of fraud associated with public contracts from when she served as Argentina's president from 2007 to 2015.
Generally, the crowds gather around her home to show support as she defends herself against the accusations. Kirchner has blamed the media for convicting her before her day in court and disputes the validity of the accusations of wrongdoing. She could lose her right to hold office and serve up to 12 years in jail if found guilty.
Reactions to the Assassination Attempt
President Fernandez condemned the attempted assassination and implored the nation to reject "violence and hatred," according to a report from Buenos Aires Times. He also declared September 2 a day of solidarity in honor of the vice president's salvation from assassination.
Leaders from countries around the world sent messages of support to Kirchner. Secretary of State Antony Blinken expressed the US "stands with the Argentine government" against this horrific attack and condemns such violence.
Copyright 2022, USNewsBreak.com