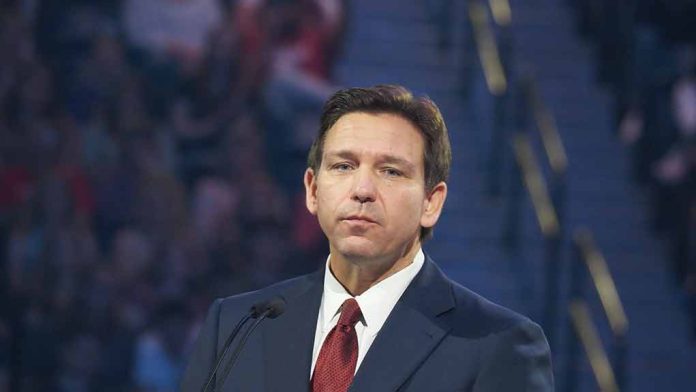 (USNewsBreak.com) – California Gov. Gavin Newsom (D), along with California Attorney General Rob Bonta (D) and Bexar County, Texas, Sheriff Javier Salazar, recently sent the Department of Justice (DOJ) a formal request to open a criminal investigation against Florida Gov. Ron DeSantis (R). They highlighted immigrants recently flown from Texas to Sacramento, allegedly induced by false promises and facilitated by DeSantis' administration, adding that officials in California were already pursuing criminal and civil actions. Florida Attorney General (AG) Ashley Moody (R) believes they need to drop the issue.
Moody had a letter of her own for the DOJ. In it, she argued that the department shouldn't investigate the State of Florida because its officials have done nothing to break any laws. She called Newsom's correspondence "a political stunt, not a legal request" staged solely to undermine DeSantis' chances of winning the GOP presidential nomination. The Florida AG pointed to Newsom's failure to include Texas or New York leaders in his request as evidence that the move was both personal and political.
Florida AG Ashley Moody wrote to the Department of Justice, warning it against granting California's request to open investigations into Florida's migrant flights. https://t.co/2bI9DAssjs

— NEWSMAX (@NEWSMAX) July 15, 2023
The push for federal legal action stems from Florida's recent arrangement of two planeloads of migrants, all carrying documentation from Florida, who traveled from Bexar County, TX, to Sacramento, CA, and arrived without any prior notice, dropped off at the steps of a Catholic church. Newsom, Bonta, and Salazar claim the individuals in question only agreed to the lengthy trip because they believed immediate assistance, including housing and employment access, awaited them on the other end. According to the state leaders, the promises were merely lies to convince the migrants to sign documents and go willingly.
Moody stressed that states move migrants all the time, emphasizing the fact that Florida and its contractors had not transported anyone against their will. She suggested the DOJ avoid "duplicating efforts" and wasting federal resources by opening an investigation since both Bonta and Salazar had indicated their respective organizations already had or soon would.
The Florida AG also reminded the DOJ of Florida's track record against the Biden administration and promised to fight back with every tool at its disposal if a criminal investigation against DeSantis proceeds.
Copyright 2023, USNewsBreak.com