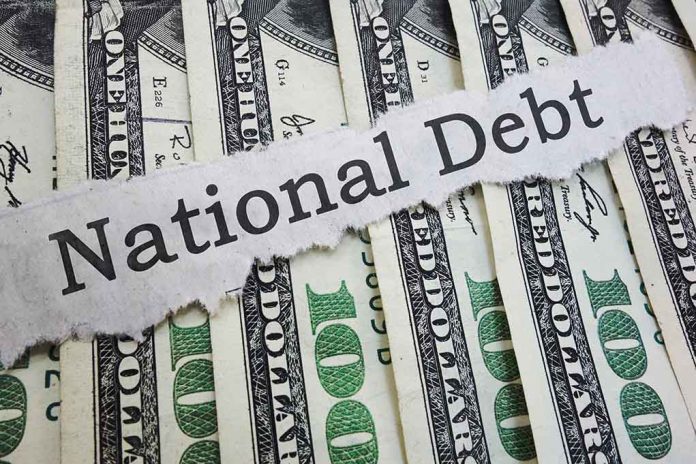 America Hits New Debt Record of More Than $31T
(USNewsBreak.com) – The Department of the Treasury announced the national debt was over $31 trillion at the beginning of the 2023 fiscal year, which runs from October 1, 2022 to September 30, 2023. The figure broke records as the highest level in history. It also sparked concerns about the potential consequences of allowing the country to dig itself into such a massive pit.
BREAKING NEWS: National debt surpasses $31T for first time https://t.co/JrR4XEysTn

— Fox News (@FoxNews) October 4, 2022
National debt grows when the government spends more than it brings in through taxation measures. The national debt has been growing for years, but the COVID-19 pandemic and the Ukraine-Russia conflict have massively contributed to spending recently.
Interest rates have also been on the rise this year due to the Federal Reserve working to bring down record-high inflation. This has sparked concerns from experts about the consequences of combining high debts with rising interest rates. According to the New York Times, Manhattan Institute senior fellow Brian Riedl says the US has been on a "long-term spending spree" with low interest rates for some time, but that taking on more debt as they increase could have "horribly expensive results."
According to a blog report from September, the Committee for a Responsible Fiscal Budget (CRFB) noted that the deficit will likely grow by almost $5 trillion by 2031 thanks to the Biden administration's policies.
The country also operates under a debt ceiling set by Congress, which is currently $31.4 trillion. If the deficit exceeds this limit, the United States defaults. The ramifications of that could be massive, impacting the global economy. It could cause an immediate and sharp increase in interest rates and could diminish the value the world holds for the US dollar. Reports have suggested it could also lead to a severe recession.
Do you think we should be worried about the US defaulting on its debt?
Copyright 2022, USNewsBreak.com