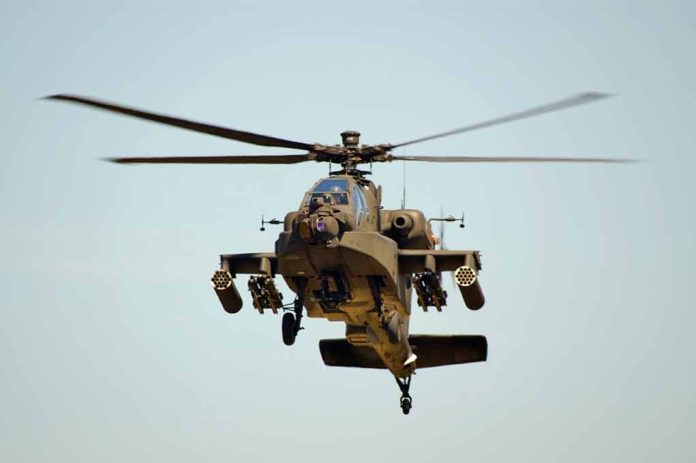 (USNewsBreak.com) – Three US Army members died during a recent helicopter training mission in Alaska. The tragedy occurred within months of another incident in the Last Frontier State, injuring two soldiers, and two previous military flying accidents in Kentucky and Tennessee, which resulted in 11 deaths. On April 30, news outlets reported that the Army had identified the three servicemembers involved in the crash: Christopher Robert Eramo, Kyle D. McKenna, Stewart Duane Wayment.
Three soldiers were killed when two U.S. Army helicopters collided after a training mission in Alaska, marking the latest tragedy involving military aircraft in the U.S. in recent months https://t.co/urM4zLWaDo

— The Wall Street Journal (@WSJ) April 28, 2023
The vehicles involved in the most recent Alaska crash, both AH-64 Apache helicopters, reportedly collided while returning to their base from an exercise. Two soldiers died on the scene, but the accident left two survivors, one of whom perished in transport to the hospital. The other is currently receiving in-patient medical treatment. The cause of the accident remains unknown.
In February, an Apache helicopter in Alaska rolled shortly after takeoff and crashed. Two soldiers suffered injuries, but no one died in that incident.
Also in February, a helicopter crash in Huntsville, Alabama, killed two national guardsmen, according to The Wall Street Journal. In that case, a single Black Hawk helicopter made a sudden, rapid descent to the earth for reasons still under investigation. No one else was injured or killed in that incident, and the National Guard agreed to any state and federal investigations that might assist in determining the cause.
Nine additional soldiers died in Kentucky in March when two HH-60 Black Hawk helicopters crashed while flying in formation at night. The Hill reported that the two were performing a routine drill, but soldiers were using night-vision goggles to offset the dark conditions. The two vehicles might also have flown too close to one another, and a preliminary report based on recovered flight recorder — or "black box" — data suggested they collided before they went down.
Military.com stated that roughly five soldiers have died annually while conducting aerial maneuvers over the past five years, making 2023 unusually unlucky for US forces.
Copyright 2023, USNewsBreak.com