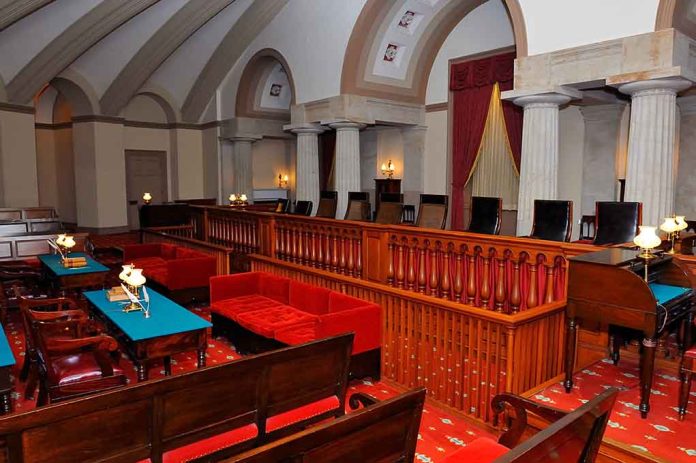 Should SCOTUS Justices Have Term Limits? The Poll Results May Shock You
(USNewsBreak.com) – A poll from The Associated Press-NORC Center for Public Affairs Research released on July 25 showed Americans are likely to support term limits for US Supreme Court justices. The survey took place just after the justices' decision in Dobbs v. Jackson Women's Health Organization, at a time when many people had strong feelings about the system. The results revealed 67%, or about 2 in 3 of respondents, want to forgo the life appointment and put a cap on service length.
Americans back Supreme Court term limits, mandatory retirement age: poll https://t.co/WfiniRz48H pic.twitter.com/aY0Uj5ikNu

— New York Post (@nypost) July 25, 2022
The results by party show 82% of Democrats and 57% of Republicans are in favor of the idea. The respondents also seem to similarly prefer setting a retirement age.
In the recent poll, 43% saying they have little confidence in the institution. This is higher than in April, when the figure was at 27%. The news organization notes Democrats are the main reason for the numbers, as members of the left display far less belief in the system than Republicans.
Debates have been raging over packing the Court, with some people suggesting expansion as the solution. Still, only 34% of those polled thought it was the right move. Term limits appear to be the most bipartisan option for ensuring the judicial branch does not get stuck leaning too far to the Right or Left.
On July 26, Democrats introduced a piece of legislation that would mandate term limits for Supreme Court justices. Under the bill, justices would be able to serve for 18 years. The President would also be allowed to nominate and appoint a new justice every two years.
In your opinion, should Supreme Court justices have term limits?
Copyright 2022, USNewsBreak.com