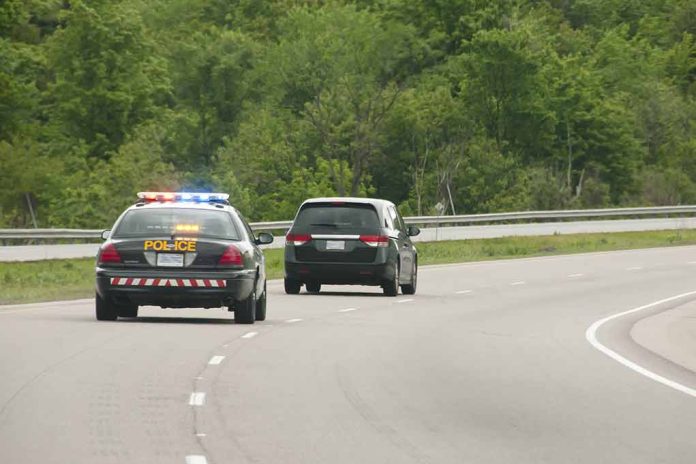 (USNewsBreak.com) – There's been a concerning increase in the number of car thefts in recent years. In 2019, crooks stole more than 801,000 vehicles, according to statistics from the Insurance Information Institute. By 2022, that number exceeded 1 million. Even more alarming is the number of juveniles involved in the crimes, and some people say they are learning how to do it on social media. A recent theft in Michigan has drawn national attention because of the alleged perpetrator's age.
On May 27, a 10-year-old stole his mother's car, a 2017 Buick Encore, from Buena Vista Township and took it out on a busy highway. He was allegedly attempting to drive to his mom, who was in Detroit, approximately 90 minutes away. According to reports, police received a call from OnStar alerting them to the crime and the location of the vehicle. They immediately launched into action to try to pull over the vehicle, but the child refused to stop.
Footage from the police car's dash cam shows the wild chase the kid took officers on with hazards flashing the entire time.
Eventually, OnStar disabled the car after the child crashed into a guardrail. He then exited the vehicle in an attempt to get away from the police and was apprehended shortly after.
The 10-year-old boy is facing quite a slew of charges for his actions. Authorities booked him into Saginaw County Juvenile Detention Center on one count each of assaulting, resisting, or obstructing police, fourth-degree fleeing and eluding police, and unlawfully driving a motor vehicle. Fortunately, nobody was injured during the incident.
While it's not common, this isn't the only time a 10-year-old has stolen a vehicle. In 2022, 14 people were arrested in Memphis for grand theft auto, one of whom was a 10-year-old. In Florida, a boy of the same age proved to be a serial thief, stealing cars from a dealership. He was even issued a GPS tracking device because of his history.
Copyright 2023, USNewsBreak.com